---
The Callahan Report: Mark Martin 'escapes' from Martinsville with victory
9 April 2000
By Terry Callahan
Motorsports Editor, The Auto Channel
Mark Martin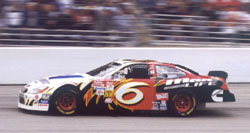 MARTINSVILLE, VA:
Imagine standing in your living room and spinning in circles for three or four hours. Call the kids in...to hit you with a baseball bat a few times while you are performing this exercise. Congratulations...now you know what it feels like to run at Martinsville Speedway for 500 laps.
Mark Martin survived' the Goody's Body Pain 500 Sunday. He was not involved in any of the 17 incidents that slowed NASCAR's toughest short-track race. Mark Martin jumped in front of the pack with less than 70 laps remaining. He became the eighth different winner of the 2000 racing season.
"For my race team to win at Martinsville with me is the biggest victory that they could ever have, because I'm terrible here and I know it," said Martin, who showed no power most of the weekend. "We stole one today. I was hoping to get a top 10 finish, and nobody came and nobody came and nobody came. Right now this feels like the biggest win of my career."
Martin used pit strategy, a borrowed setup, and luck to pull of his second victory at Martinsville. His first victory here was eight years ago (1992). Martin pulled to within 36 points of the current Winston Cup points leader, Bobby Labonte, who finished in twelfth place.
"Special thanks to Jeff Burton and Frank Stoddard (Burton's crew chief)," said a stunned Martin. "We ran so pitiful in practice yesterday that we went to them begging to help us and they did."
"Once we got to the lead man, I just ran like a dog," and exhausted Martin said in victory lane. "I figured Rusty would be coming for sure. I thought he was the man all day and I figured he'd bounce right up through there."
Jeff Burton

Jeff Burton, the man who helped Martin with his setup for the winning effort Sunday, was equally amazed that he finished second in a race.
"Me finishing second today is a borderline felony," said Burton, who has already visited the winner's circle this season. "We might need to spend a few hours in jail before we go home, because we didn't deserve to finish second."
Rusty Wallace, the pole winner and multiple champion at Martinsville, led most of the opening 400 laps with no competition. Martin stayed on the track when Wallace, Dale Earnhardt and other front-runners pitted with 64 laps to go in the race. His old tires lasted till the end as he pulled away from everyone.
"I just couldn't believe it when I'm sitting there running 15th and 13th and going, `Man, how in the hell did this happen?'" the colorful Wallace explained. "It was all track position. With 50 and 60 laps to go, I should never have pitted."
Ironically, Rusty Wallace brought out the final caution flag of the day with eight laps to go. The 50-time NASCAR Winston Cup race winner was literally on a Sunday drive for most of the race. He started the race up front beside his younger brother (Kenny) who was involved in the first crash of the day after his accelerator stuck heading into turn one.
Jeff Gordon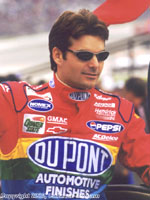 Jeff Gordon, a three-time winner at Martinsville, was elated to return to one of his favorite short-tracks. Gordon landed his first top five finish in twelve races Sunday. He finished in fourth place behind Martin, Burton, and Michael Waltrip. The defending Winston Cup Champion, Dale Jarrett, rounded out the top five.
John Andretti also came into this weekend with high hopes. He was the defending champion of the race. His high hopes turned to anger with a six laps to go. While running in third place, Andretti got a "tap" from Michael Waltrip. Andretti fell to 14th place when the checkered flag fell. He returned Waltrip's "tap" on the cool-down lap.
"There's no excuse for it," said the normally calm and collected Andretti. "It's just real upsetting to get spun our for no reason."
The amiable Waltrip responded to the incident saying, "It hurt my heart. I would rather finish 15th than have happen what did."
The grueling 500 laps at Martinsville takes its toll on teams and drivers...physically and mentally. After a few days of rest, the tempers will go back to normal. They'd better. The next race is at the longest and fastest track on the circuit. Talladega is no place to being playing bumper tag.
Editors Note: To view hundreds of hot racing photos and art, visit The Racing Photo Museum and the Visions of Speed Art Gallery.