---
The Callahan Report: Rusty Wallace joins elite company with 50th career victory
26 March 2000
By Terry Callahan
Motorsports Editor, The Auto Channel
BRISTOL, TN:
Rusty Wallace has won so many races at Bristol Motor Speedway he could do it with his eyes closed. Sometimes, that is the preferred driving method at this fast and frightening short-track. With the fear aside, Wallace was bright-eyed after winning the Food City 500 at Bristol Sunday afternoon.
It was Wallace's 50th visit to victory lane in the NASCAR Winston Cup Series. Only nine other drivers have had 50 or more victories in the history of the sport. Bristol is the site of Wallace's first Winston Cup win in 1986. His win Sunday ended a thirty-four race winless streak. His last victory also came at Bristol...a year ago.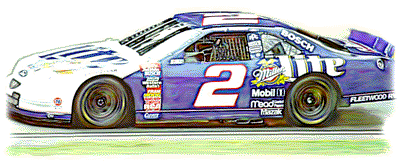 Rusty Wallace
"It meant so much to me and I've been trying so long to get that number 50 and I got it at my favorite race track," Wallace said after winning at Bristol for the eighth time. "I love all these race tracks, but Bristol has been my home."
Other names in the 50-win category include Richard and Lee Petty, Dale Earnhardt, Darrell Waltrip, Ned Jarrett and Junior Johnson. Rusty Wallace has earned his spot alongside these impressive names.
Wallace has been determined to return to the winner's circle. He and his Penske Racing Team have concentrated on their short track racing of late. Wallace practiced at Bristol two weeks ago to help his winning effort.
The practice sessions at Bristol paid big dividends for the entire team. Jeremy Mayfield, Wallace's teammate, also had a great run at Bristol. Mayfield appeared to be the top car on the track late in the race.
"Jeremy let me go by to get five points and I thought he was gonna be able to get right past me, but he started gettin' loose and then when (Jeff) Gordon had his problems there that helped me a little bit," Wallace said.
"I'm real happy for him." said Mayfield after finishing in fourth place. "I wish I would have been there where we could have finished first and second or vice versa, but it was a good day."
Jeff Gordon

Jeff Gordon, winless in eleven races, led the most laps Sunday. He hit a tire exiting the pits which ended his chances at victory. Gordon finished in eighth place, matching his best finish of the season.
"It was my fault, I blasted it pretty good,'' said a disappointed Gordon after the race. "We had such a strong car, it's a shame that had to happen."
Pontiac drivers finished second and third Sunday. Johnny Benson blasted from the rear of the field to come home in second place. Ward Burton, the winner a week ago at Darlington, finished third.
Seven-time Winston Cup champion Dale Earnhardt brought the crowd to its feet as he bulleted his way through the pack early in the race. The familiar black number 3 pulled past Jeff Gordon on the 206th lap of the 500 lap event. Two laps later, tragedy struck Earnhardt. He was heading towards the start-finish line to take one of eleven yellow flags when he was tagged by a spinning Kenny Irwin.
Earnhardt was also involved in a first lap incident. He tapped the back end of Elliott Sadler before the end of lap 1. Sadler spun and collected Dale Earnhardt Jr. in the process. Both drivers lost several laps in the pits before the racing calmed down.
"I checked up because I didn't want to run into Bobby Labonte on the second lap of the race and then somebody got in the back of us." said Sadler, who was fastest in happy hour on Saturday. "It's just tough luck for us. I tried to keep it out of the wall, but it just wasn't meant to be. We knocked all the steering out and that blew the right-front tire. It's just one of those days at Bristol we wish we could have avoided."
Bristol is famous for metal crunching action. From the opening lap to the end of the race, the Tennessee track lived up to its billing of sparks, noise and thrills.
The most frightening crash came with 35 laps to go in the Food City 500. Rick Mast slammed into the side of John Andretti's Pontiac. It took track workers a few laps to free Andretti from his crunched racer. Mast walked to the ambulance holding his stomach. Both drivers were taken in for checkups and later released.
Bristol is a warm-up for another "tight" track. The NASCAR Winston Cup teams head to Texas Motor Speedway next weekend where the speeds are much faster, but the track has narrow passing lanes.
Don't sit back... don't relax... Stand up and cheer because the 2000 NASCAR season is in full swing.
Editors Note: To view hundreds of hot racing photos and art, visit The Racing Photo Museum and the Visions of Speed Art Gallery.