---
The Callahan Report: Ward Burton earns long-overdue victory at Darlington
19 March 2000
By Terry Callahan
Motorsports Editor, The Auto Channel
Ward Burton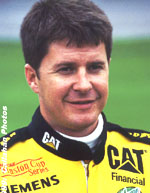 DARLINGTON, SC:
If Ward Burton drove as slow as he talks, he would be a tram operator at Disney World. Instead, the soft-spoken man from South Boston, Virginia beat the best in the racing business Sunday. Burton won for the second time in his career at the Mall.com 400 in Darlington. His first win on the NASCAR Winston Cup circuit came four and a half years ago.
Ward Burton and his younger brother Jeff have earned "star status" around the country. Jeff, age 32, has seen more success than his 38 year old brother. Ward Burton doesn't differentiate between blood relatives and the rest of the competition. He simply hates to lose.
"We beat 40 other teams out there. We came out and beat Bobby Labonte and Dale Jarrett and Dale Earnhardt and Mark Martin," said Burton smiling. "We beat those racers because we had a car that was better today."
The term "better car" was an understatement. Ward Burton passed Matt Kenseth with 36 laps remaining in the race and never looked back. Burton was unchallenged to the finish. He beat the defending Winston Cup Champion, Dale Jarrett to the finish line by 12 car-lengths.
"Ward and his team have done a great job, not only this year but the last couple of years," said Jarrett. "They've challenged for wins and just haven't seemed to be able to get there at the end."
Some questioned if Ward Burton could ever win again. The likable driver knew he could.
"It's easy to get down on yourself. But we just tried not to pay a lot of attention to all that and just be consistent," Burton said.. " If we kept being consistent it would happen. This time it did."
Ward Burton is confident that his victory at Darlington is just the beginning. His attitude and the hard work exhibited by his racing team made for a winning combination Sunday. He is certain that he can beat his younger brother and the rest of the competition consistently. Those ingredients could be the recipe for a championship.
"It means we're through a big hurdle. The pressure is off. We're still going to put the same amount of pressure on each other that we do every week," said Burton. "And I don't have to hear it from my little buddy Jeff anymore. Jeff believes I can win and that's a big thing there."
The younger Burton sibling was elated with his brother's victory.
"I'm glad to see them win. It's been a long time coming," said Jeff Burton. "No question they had the best car today, they definitely had the best car and the car that should have won the race won the race."
"We never hit it. We were loose, we were tight, we were all over the place and never got anywhere even close enough to run with Ward or anybody for that matter. We're happy to finish fifth," concluded Jeff.
Ward Burton led 188 of the 293 laps. He finished with an average speed of 128.076 mph. Ward Burton became the fifth different winner in five races this Winston Cup season.
Jeff Gordon won the pole with a quick run on Friday afternoon. The three time series champion looked to be on his way to the top again. Gordon finished in eighth place. It was his best result of the year. It was the first time this season Gordon has finished on the lead lap. By Gordon's standards, he is in a serious slump. He has not won in 10 races.
Dale Earnhardt, who had also had an outstanding qualifying run Friday, finished in the top ten again on Sunday. It was Earnhardt's fourth top-ten in five races this season. Earnhardt is attempting to become the first eight-time Winston Cup Champion.
The first couple of races in the 2000 season showed a dominance by Ford teams. NASCAR officials made rules changes in the interest of competition. Those changes have worked. In Sunday's race there were five Fords, three Chevrolets, and two Pontiacs in the top-ten.
One of the Pontiacs in belonged to race winner, Ward Burton. The other top-ten Pontiac was piloted by the 1999 rookie of the year Tony Stewart who finished fourth.
"We just keep getting better and better here. That's the main thing. That was our goal. Every time we come back to a track we've been to we want to be a little better," said Stewart. "We finished sixth here last year and we finished fourth here this year. We're making gains."
Notes: Sunday's NASCAR Winston Cup Series victory by Ward Burton marks the third victory by a Pontiac in 94 NASCAR races held at Darlington Raceway. The last win for Pontiac was posted by Joe Weatherly in the 1963 Rebel 300.
Editors Note: To view hundreds of hot racing photos and art, visit The Racing Photo Museum and the Visions of Speed Art Gallery.