---
The Callahan Report: Ward Burton ready to take on 'big brother' role at Las Vegas
1 March 2000
Ward Burton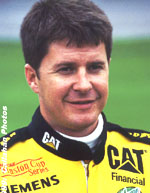 LAS VEGAS, NV:
The last time the stars of NASCAR Winston Cup racing visited the 1.5 mile tri-oval in the Las Vegas desert, it was a show of classic battles. The wars included the typical fight for manufacturer's bragging rights and one of sibling rivalry. Ward and Jeff Burton banged and sparked their way to the finish in the 1999 desert showdown. The younger Burton brother, Jeff, won the heated encounter.
Based on his early season performance, Ward Burton is planning on turning things around at the 2000 running of the Las Vegas race. Ward has finished in the top ten at the first two races this season. He is long overdue for victory. Ward Burton is just plain tired of being beaten by his younger brother in the top NASCAR series.
"The Caterpillar team did a great job for me last week at Rockingham. If we keep running like that and knocking on the door, a win will come for us," said Burton. "It has been awhile, but we got a top-five finish and I'm happy with that."
Burton's determination, coupled with his love for the relatively new speedway in the Nation's gambling capital, may be enough to put him in the winner's circle Sunday.
"I really like the track at Las Vegas. It is a great facility. It truly suits my driving style," said Burton, who finished third at Rockingham last weekend. "You don't have to run the bottom groove like you do at places like Loudon. You have to just about nudge somebody out of the groove to get by them at those types of tracks. But Vegas has a great track surface and it's just a good track for everybody to run on."
Last year, Ward Burton proved he is capable of moving to the front on the smooth Las Vegas racing surface. He started from the 30th position in the 1999 race. He led many laps before finishing second to his brother.
At the Daytona 500 two weeks ago, Fords swept the top five finishing positions. Jeff Burton finished in second place. Daytona is a restrictor-plate track where NASCAR rules rob the cars of valuable horsepower. Many drivers and teams complained that Fords would dominate the season if measures were not taken to correct the problem.
At Rockingham last weekend, 1999 Winston Cup Champion, Dale Jarrett, piloted the top Ford to a fifth place finish. Jarrett was one lap off the pace. Pontiac drivers placed three cars in the top five. One of those Pontiacs had Ward Burton at the wheel.
Las Vegas has belonged to Ford drivers since the track opened two years ago. Jeff Burton, who started from 19th place at Las Vegas last year, drives a Ford again this year. His teammate, Mark Martin, won the Las Vegas race in 1998 with Ford power. Ward Burton plans to eliminate the Ford dominance with his Pontiac.
Ward Burton has one victory to his credit in the NASCAR Winston Cup series. He has finished second to his brother on a number of occasions. The Las Vegas fast track provides the best opportunity for Burton to turn the tables on his younger brother. While he is excited about the fast pace the track provides . . . he prefers a slower setting away from work.
Ward Burton's way of life is winning with a motorized machine, instead of the one-armed variety so often associated with Las Vegas.
"As for the city of Las Vegas, I wouldn't ever be able to live there. Everything moves way to fast for me," said Burton in his unique slow talk style. "That doesn't mean that I fault anybody else for living there, it's just not my style. I do enjoy going there once a year. I enjoy watching the excitement of the gamblers and the fast pace of life. I like taking my family to see a show and just absorb a different way of life."
Talent, organization, and self-motivation make for a winning combination. Burton and his team have it all. Ward Burton is ready to explode into NASCAR stardom.
"We put enough pressure on ourselves to win, so we don't need any added pressure," said Burton. "We keep getting closer each week. We have built a great team and we're going to get to victory lane together."
Ward Burton shows more confidence than arrogance. It is that confidence which makes him a top contender not only for the victory at Las Vegas, but for the 2000 Winston Cup Championship as well.
Editors Note: To view hundreds of hot racing photos and art, visit The Racing Photo Museum and the Visions of Speed Art Gallery.