---
The Callahan Report: Bobby Labonte continues 'success story' at Rockingham
27 February 2000
By Terry Callahan
Motorsports Editor, The Auto Channel
Bobby Labonte

ROCKINGHAM, NC:
Bobby Labonte used talent, patience, and the strength of his Joe Gibbs led racing team to finish second in the NASCAR Winston Cup championship last year. In only the second race of the 2000 season, Labonte continued using that same recipe for success. With balance on long green-flag runs, Labonte ran away from his competition Sunday at the Dura Lube/KMart 400 in Rockingham. He led the final 113 laps and captured his 13th career victory.
Labonte held off a late charge from seven-time champion Dale Earnhardt. He crossed the finish line 1.068 seconds ahead of the 1998 Daytona 500 winner. Ward Burton finished third, followed by Labonte's teammate--Tony Stewart. The top four finishers were the only drivers on the lead lap.
"I had a lot of traffic to work with and Dale (Earnhardt) had a lot of traffic to work with and his car was better on the last 20 laps of a long run," said Labonte. "He was coming on strong at the end, but we had been able to put a big enough cushion on him at the beginning to hold him off."
Earnhardt, still boiling from his middle-of-the-pack finish at Daytona last weekend, was much happier this weekend. Earnhardt gained 14 spots in the championship point standings. He moved from 21st to 7th with his second-place finish.
"I wanted to do the best I could with my tires and save the tires. It was just tire management. I just ran out of time," Earnhardt commented. "I needed a few more laps to get to him, but my tires were getting away from me toward the end. He (Labonte) got away from me and then just sort of took it easy."
Tony Stewart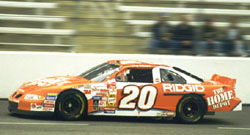 Tony Stewart, in his second season on NASCAR's top circuit, nearly made it a on-two finish for Joe Gibbs racing. The former Indy Racing League champion pitted with Labonte and Earnhardt for the final time on lap 320. Twenty-three laps later, Stewart passed Earnhardt to move into second place.
Stewart learned that the abrasive surface at Rockingham will torture drivers who don't exercise patience. His move was too fast, too early. He dropped to fourth at the finish after his tires began to wear out.
Stewart began the season with the goal of performing better than last year at each track He has met that goal at the first two outings this season. Stewart finished fourth in the final point standings last season.
Joe Gibbs racing was one of the last "big budget" teams to field multiple cars on the NASCAR Winston Cup circuit. Until last season, Gibbs fielded only one car at each race. The team brought in the rookie Stewart in 1999. In less than one season, Joe Gibbs Racing has emerged as one of the super-teams in the sport.
The race at Rockingham erased some of the questions about Ford dominance. Fords swept the top spots at Daytona last weekend. The top Ford finisher this week was Dale Jarrett in fifth place. He was one lap down. Jarrett dominated last weekend to win his third Daytona 500.
Rusty Wallace won the pole at Rockingham in a Ford Taurus, but dropped to eleventh place at the finish due to poor pit stops. He believes it is too early to make any rules changes to level the playing field' between Fords and General Motors. The winning crew chief, Jimmy Makar agrees that the competition seems to be equal at non-restrictor plate race tracks.
"I think it's too early to tell yet, honestly, for all the makes," said Wallace. "The chassis has a lot to do with what goes on here. Aerodynamics isn't everything."
"It's obvious nobody's got a big advantage right now," said Makar. "We had great racing today. All three manufacturers finished up front"
NASCAR officials continue to study the problem. Three cars will be taken to the wind tunnel this week for evaluation. The cars of Bobby Labonte (Pontiac), Dale Earnhardt (Chevrolet), and Dale Jarrett (Ford) will be checked in Marietta, Georgia by the sanctioning body.
The NASCAR Winston Cup series moves to Las Vegas next weekend where the Fords of Jeff Burton and Mark Martin have dominated the last two seasons.
Editors Note: To view hundreds of hot racing photos and art, visit The Racing Photo Museum and the Visions of Speed Art Gallery.