---
NASCAR WCUP: Jarrett and Yates pick up where they left off
12 February 2000
By David Treffer
Contributing Editor, The Auto Channel
DAYTONA BEACH, FL
--There's and old saying that has tested the rigors of time. "The rich get richer." The same could be said for the Robert Yates Racing Team with drivers Dale Jarrett and Ricky Rudd. The Yates team swept the front row during Saturday's qualifying for the 42nd Daytona 500.
Ricky Rudd and Dale Jarrett Celebrate
The 1999 NASCAR Winston Cup Champion, and two-time winner of the Daytona 500, swept to the pole position in his #88 Ford Quality Care Ford with a speed of 191.091 mph. His time around the two-and-a-half-mile track was 47.098 seconds. Jarrett's teammate, Ricky Rudd, placed himself on the outside of the front row with a speed of 190.384 mph (47.273 seconds).
Jarrett, commenting on gaining the pole position said, "I could not be happier. When I set the time (pole position) I felt for certain that it would not stand. This is just a great way to start the season."
The pole position for Jarrett is his first since the 1998 season when he posted two pole positions.
Dale Jarrett

Ricky Rudd, the 1983 Daytona 500 pole winner, is showing that he will be among the driver's to beat for the 2000 NASCAR Winston Cup championship.
"A Yates front row...what a great way to start with a new team" an exuberant Rudd exclaimed after qualifying was over.
Ricky Rudd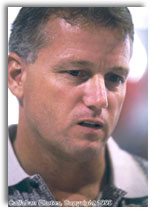 The new driver of the #28 Texaco Ford had a tough decision to make last year. For Rudd, the decision to sell his team and switch to the Yates stable is already paying off.
Asked earlier in the year about closing his race shop Rudd replied, "That was a tough decision to make. When you own a team you worry about everything. The hardest part of shutting the team down was knowing that I would have to let people go. We tried to place everybody and get a fresh start. Now I can concentrate on driving."
Obviously Rudd has done just that.
Third place in qualifying was taken by Bill Elliott. Arguably, NASCAR's most popular driver turned a lap of 190.319 mph (47.289 seconds).
"We didn't win the pole but we certainly showed ourselves that we have a race car that can compete for the checkered flag next Sunday," said Elliott, who has been winless since 1994 but is always a threat at Daytona.
Mike Skinner, in the Lowe's sponsored Chevrolet, was the only Chevy driver to break into the top ten qualifying spots. Skinner was the last to attempt qualifying in the 3 1/2 hour Bud Pole Qualifying session.
"We stole something out their. I tell you it's going to be ugly for Chevy driver's next Sunday. We have a long way to go on this new Monte Carlo 2000," said Skinner after posting a lap of 189.781 mph (47.423 seconds) which was good enough for fourth place. He nipped Mark Martin by .015 one-hundredth's of a second.
Martin, who has recovered from back surgery during the off-season, drove his #6 Valvoline sponsored Roush Ford to fifth fastest. After the run, Martin commented, "I guess I should be happy with where we qualified. But I was hoping to contend for the pole. Now it's time to get the car ready for the 125's and next Sunday."
In the top ten, there were 6 Fords, 3 Pontiacs, and 1 Chevrolet.
Ward Burton, in the #22 Caterpillar Pontiac was sixth fastest and the highest of the Pontiac drivers. Burton commented on his run, saying, "This team (Bill Davis Racing) is just a great bunch of people. We are just that far (holding his thumb and index finger just barely apart) from challenging for the championship. I'm pretty happy with the time (47.460 seconds) but now it's time to get the car into race set-up."
One driver had mixed feelings about his qualifying attempt. During practice sessions, Rusty Wallace was posting the fastest times in his #2 Miller Lite Penske South Ford.
"I don't know where I missed the time. I tried a different line on my second lap and I missed it. I'll be looking at the lap on video. I'm happy that we got the car into the top ten and we'll just have to get ready for race day," said a dejected Wallace.
NASCAR Rookie driver Scott Pruett is certainly not a stranger to the high banks of Daytona. The former CART driver switched to Cal Wells' NASCAR effort this year. He has competed at Daytona in the IROC series. Pruett's speed of 189.470 mph (47.501 seconds) was good enough for 9th place in qualifying.
"This team has done a tremendous job considering the fact that we started organizing the team in September. I still have a lot to learn about racing in traffic. The twin 125's will be a good way to learn," said Pruett, who has been successful in every form of motorsport he has competed in and is a quick learner. The Pruett/Cal Wells team are true contenders to win the NASCAR Rookie of the Year honors.
So another qualifying session for the most famous race in stock car racing has come and gone. The Robert Yates Racing Team has made a statement . . . Their current stewardship of the NASCAR championship is not going to be taken away easily . Nonetheless, it's a long time between now and the last race of the season.
This week will seem like an eternity for the top NASCAR Winston Cup teams waiting to get going in the big prize fight. On the other hand, there will too little time for the teams at the bottom .. . . something about the "Rich getting richer...."
Posted and Edited by: Terry Callahan
Editors Note: To view hundreds of hot racing photos and art, visit The Racing Photo Museum and the Visions of Speed Art Gallery.