---
The Callahan Report: 'First' is the theme at Homestead for Jarrett and Stewart
14 November 1999
By Terry Callahan
Motorsports Editor, The Auto Channel
HOMESTEAD, FL:
There was a definite theme at the inaugural Pennzoil 400 NASCAR Winston Cup race Sunday. The word 'first' appeared every time the record book pages were turned. It was the first time the Winston Cup drivers raced at the sparkling flat track. Tony Stewart became the first rookie driver to ever win three races in a season. And...Dale Jarrett finally clinched his first Winston Cup Championship.
"I've just gotta thank God for the talent of this race team and putting me here with such great people like Robert and Carolyn Yates, Doug Yates, Todd Parrott, this entire organization has done a fantastic job," said an elated Jarrett after the race. "We want to look back and thank two guys that helped bring this organization to where it is -- Davey Allison for getting all this started and then Ernie Irvan for his contribution in making this a winning operation. Without their talents and their support, we'd have never gotten this far and we just want to make sure those guys are remembered for being a part of this. This is just fantastic."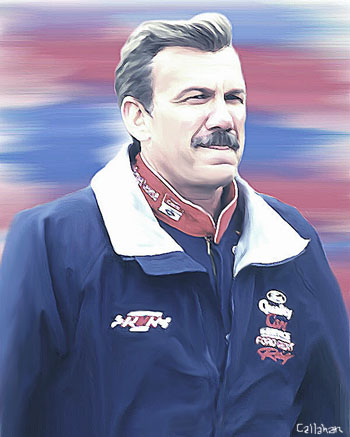 Dale Jarrett:
1999 NASCAR Winston Cup Champion
One first that could not be broken was the record for a father and son to share the title "Winston Cup Champion". Lee and Richard Petty hold that distinction. Dale Jarrett joined his father, Ned Jarrett, to become the second father-son combination in NASCAR history to share titles. Ned Jarrett won the championship twice (1961 and 1965) before retiring in 1966.
"This sport has been awful good to the Jarrett family over the years," said Jarrett as he stood next to his mother and father. "To now become the second father-son team to win a Winston Cup Championship is pretty special to us. Hopefully we've given a little something back to the sport."
Jarrett was filled with emotion, despite the fact that his car could not keep pace with the Pontiacs of the Joe Gibbs racing team. Rookie Tony Stewart and Bobby Labonte were the class of the field. Labonte led the most laps but was unable to hold off his rookie teammate in the closing laps of the race.
"This was a day that Tony Stewart and Bobby Labonte were the best race car and this was a race for them to battle out to win," said Jarrett who finished in fifth place. "Our job was to finish in the top eight and we thought we had a car that was very capable of that, if we could stay out of trouble."
Jarrett, driving a Ford Taurus, became the first Ford driver to win the championship in seven years. The last Ford driver to claim the championship was the late Alan Kulwicki, who edged Elliott by the narrowest margin in NASCAR Winston Cup history -- 10 points in 1992. Bill Elliott registered the first driver's championship for Ford in the modern era, which started in 1972, by 24 points over Rusty Wallace.
In winning the championship this season, Jarrett has posted four wins, 23 top-five and 28 top-10 finishes in 33 starts. He finished a disappointing 37th in the season opener at Daytona. Jarrett went on a hot streak by registering 18 top-five efforts in the next 21 races. He took the NASCAR Winston Cup points lead after his victory at Richmond in the Pontiac Excitement 400 on May 15 and never relinquished it the rest of the year.
Jarrett reflected on the bad start to the season saying, "No, it didn't start out looking like that (winning a championship). We had a great car there, but unfortunately it didn't turn out that way. These guys worked hard, they knew that we had a chance to be a top caliber team. They weren't gonna give up."
Jarrett's team owner, Robert Yates was relieved the wait is over. Yates bought the race team in 1989. The master engine builder has seen great victories and suffered great losses in the past ten years. Sunday's celebration seemed to make it all worthwhile.
"You know, chasing is sometimes a lot more fun," said Yates. "You can be a little more risky, but when you are trying to protect the lead and make all those decisions week after week. We knew we had to have zero defects and we got it done."
Even though Tony Stewart won the race easily in the end (5 seconds), he and Labonte had a very tense moment in the late going. Stewart pitted late in the race for fuel and two tires. Labonte had done the same four laps earlier. When Stewart re-entered the race, he was directly beside Labonte heading into turn three of the one-and-a-half mile track. Stewart would not back off and slid up the track, tapping his teammate.
"I apologize to Bobby Labonte," Stewart said after the race. "I made a rookie mistake and drove into him. I just went in there too hard and couldn't hold my line. But I was trying to win the race."
Labonte knew where Jarrett was on the track. He knew his chances of winning the Winston Cup title were over. Even though his conversation on the radio was heated after the incident with Stewart, Labonte had a cool head by the time the race ended.
"I don't think it mattered," Labonte said. "I wouldn't have beat him anyway. I couldn't figure out my tires today. That was my fault."
One race remains in the 1999 NASCAR Winston Cup season (Atlanta). The top ten drivers in the points race can swap positions, but none of them can fall out of the top ten. It should make for an exciting conclusion to the racing millennium.
The Atlanta race will also feature a 'first'. For the first time since May, Dale Jarrett can race like the champion he is, instead of guarding his points lead.
Editors Note: To view hundreds of hot racing photos and art, visit The Racing Photo Museum and the Visions of Speed Art Gallery.