---
The Callahan Report: Tony Stewart wins again; 'Rookie' title not applicable in Phoenix
7 November 1999
By Terry Callahan
Motorsports Editor, The Auto Channel
PHOENIX, AZ:
The term 'rookie' is supposed to be reserved for inexperienced drivers on the NASCAR Winston Cup circuit. Saying 'Tony Stewart is a rookie' when he races at Phoenix is like saying Geoffrey Bodine has nice hair. Stewart used his many years of experience in sprints, midgets, and the Indy Racing League cars to catapult him to his second NASCAR victory of 1999. It was the fifth time Stewart had won a race at Phoenix. It was the first time in a stock car.
Tony Stewart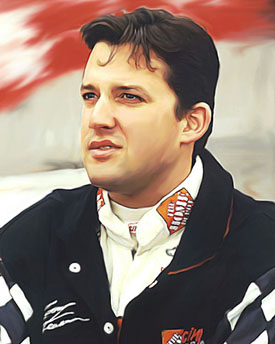 "Between the midgets, Silver Crown and the IRL, I've run all kinds of cars here," said Stewart, who matched Davey Allison's 1987 record of winning two races in his rookie season. "I have two midget wins, one Silver Crown win, one super modified win, and twice I've been second in IRL races. Those different series have helped me learn the racing lines here."
Stewart drove a patient race. Showing he is not the average 'rookie'. He started the race from the eleventh position. He waited, not pressing the issue. Finally on the 159th lap (just past the half-way mark in the race) he took the race lead.
"I knew the inside wall and the outside wall and the track's sweet spots," said Stewart. "I knew where to loosen it up and where to tighten it up."
Without a doubt, Stewart had a good car provided to him by the Joe Gibbs Racing Team. In order for a car to be good, the driver has to communicate what the car needs to make it a 'rocket ship' instead of a 'bucking bronco'. Stewart's experience at Phoenix over the years helped him provide the feedback his crew needed.
"They won that race for us in the pits," said Stewart. "On the last stop (lap 268), we went from a second and a half ahead to three seconds ahead. That's a long lead on this track. When you have Mark Martin in your mirrors, chasing you hard, you need all the edge you can get. That big lead made me feel a lot more comfortable."
Stewart climbed from fifth to fourth in the NASCAR Winston Cup point standings. He is now 142 points behind third-place Mark Martin. Stewart led three times for 150 of the 312 laps raced. He led the most laps which helped his point fund. It was the fifth time in 1999 that he has led the most laps.
The race was interrupted by caution flags twice. The first caution period came out when Brett Bodine blew a tire and hit the wall. It was a hesitation that Winston Cup points leader, Dale Jarrett, could have done without.
On the restart, Jarrett was lined up behind the eventual second place finisher Mark Martin. When the green flag dropped, Martin had ignition trouble which caused him to be without power momentarily before switching to backup power. The situation caused Jarrett to tap the back of Martin's car. After the 'tap', Jarrett went to the lead of the race. Everything looked fine until Jarrett began to fall back through the field after four or five laps. His "tapping" incident with Martin caused his right front tire to lose air. Jarrett was forced to make a green flag pit stop.
"It's a good thing that was Dale Jarrett behind me. I was able to switch to the other ignition box and took off," said Martin.
"It was just one of those things that I've been talking about," said Jarrett. "I was sitting there leading the race and the car's in great shape and we have a flat tire. You lose a lap and then it's a struggle from there. But the guys did a fantastic job in the pits gaining us some positions."
Jarrett's car was very strong. After coming out of the pits a little more than a lap down, Jarrett was able to dispose of Stewart, getting himself back on the lead lap. The final caution period allowed the field to bunch up, and Jarrett to race for valuable positions on his way to his first Winston Cup Championship.
Jarrett worked his way back to sixth place at the finish. He trailed his future teammate, Ricky Rudd, across the finish line. Jarrett only needs to finish 8th or better next weekend to win the title over Bobby Labonte, who closed the points gap only slightly at Phoenix. Jarrett leads Labonte by 231 points, heading to Homestead, FL next weekend.
"Bobby gained a few points on us, but not too many," said Jarrett. "We got to Homestead next week and do our job and, if we finish in the top 10, that should pretty much do it for us."
Editors Note: To view hundreds of hot racing photos and art, visit The Racing Photo Museum and the Visions of Speed Art Gallery.