---
The Callahan Report: Tragedy strikes the Marlboro 500; Greg Moore killed
31 October 1999
By Terry Callahan
Motorsports Editor, The Auto Channel
FONTANA, CA:
CART FedEx Championship race driver Greg Moore was killed Sunday afternoon in a horrifying crash 10 laps into the Marlboro 500. Moore was traveling in excess of 220 miles per hour when he lost control of his car. He crashed into the wall and the car broke into several pieces. The cockpit section of the car flipped several times before stopping in the infield grass.
Moore was taken by helicopter to a hospital near the California Speedway. He was declared dead an hour after arriving at the emergency room. The cause of death was massive head and other internal injuries.
Moore was born in Canada in 1975. He was 24 years old.
Ironically, Moore was nearly a spectator for the race. He suffered a broken finger and a deep cut to his right hand in a freak accident in the Paddock area at the track on Saturday. Moore was riding his motor scooter through the hospitality area when he was struck by a passenger car. CART officials cleared Moore to participate in the Marlboro 500 after a six lap 'evaluation run' Saturday. He started the race from the last starting spot.
Moore had started seventy-two races on the CART circuit. He had five wins, including the season opener at Homestead, Florida this year.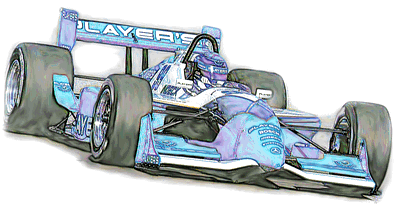 Greg Moore, 1975 -- 1999
Moore also participated in the International Race of Champions against some of the greatest drivers in the world such as Dale Earnhardt, Jeff Gordon, Mark Martin, and other NASCAR Winston Cup standouts. Moore had signed an agreement to drive for Penske racing for the 2000 racing season, taking the seat vacated by Al Unser, Jr.
Moore was the second driver in six weeks to die as a result of a crash in the CART series. Rookie driver Gonzalo Rodriguez of Uruguay died in Monterey, California during practice for a CART race at Laguna Seca Raceway.
The Marlboro 500 was the final race of the 1999 CART FedEx racing season. There was a championship and race win to be decided. The race ran to completion, but chief steward Wally Dallenbach canceled the post-race activities. He also ordered the flags around the Speedway to be lowered to half-mast.
Adrian Fernandez was the eventual winner of the Marlboro 500. Rookie Juan Montoya won the CART championship in a tie with Dario Franchitti. The tie was broken because Montoya had more race wins during the year than Franchitti.
Fernandez declined to comment on his race victory. He and other drivers went to a CART meeting room to discuss the tragedy involving Moore.