---
The Callahan Report: Jeff wins the Burton brothers' battle for victory at Rockingham
24 October 1999
By Terry Callahan
Motorsports Editor, The Auto Channel
ROCKINGHAM, NC: They call it "chipping away". Jeff Burton was quiet, but persistent in his chase for the checkered flag at the Pop Secret Microwave Popcorn 400 at the North Carolina Motor Speedway Sunday. Burton and his crew chief, Frankie Stoddard, hammered away at 'The Rock' all afternoon. Together, they produced a gem. For the sixth time this season, Jeff Burton pulled into victory lane via teamwork and persistence.
Jeff Burton
"This was the hardest we've ever had to work on the chassis to win a race," said Burton, who remained sixth in the Winston Cup point standings. "Today, we weren't close, but Frankie kept working and working and we had a great last stop."
Stoddard made the call to get Burton a big lead as the field pitted for the final time at lap 325 of the 393-lap event. He set up Burton's car for a short run, with hopes that Burton could run away from the field before his Goodyear tires lost traction on the sandpaper surface at Rockingham.
The plan worked. Burton had to run side by side with the defending Winston Cup champion Jeff Gordon on the restart with 64 laps left in the race. Gordon was trying to get back on the lead lap and did not go down easily. When Burton finally disposed of Gordon, he headed off into the horizon away from the pack. His big fear was his big brother.
"I feel bad that Ward didn't win this race,'' said Jeff Burton. "I know nobody believes that, but it's hard to go out there and one of your goals has to be to beat your brother. That's the hardest thing in the world."
Ward Burton looked to be the class of the field the second half of the race. The older Burton brother, who will turn 38 on Monday, had the fastest car on the long green flag runs. Ward Burton and his CAT Racing Team were poised to score their second victory at Rockingham.
Ward Burton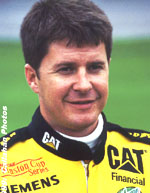 "That last caution was definitely a blessing for us," Jeff Burton said. "Ward was going to check out on us. He had a better car on a long run. Frank made the decision to go try to get everything he could on a short run."
"We made a lot of changes to the car and got it freed up. But it was too loose on the end of a long run. Ward was coming on us. He just ran out of laps," said Jeff after winning by a slim .339 seconds over his brother.
Ward Burton, who is normally upbeat after a good Winston Cup result, was visibly upset Sunday. He and his team made all the right moves to win the race. He was confident that they did all they could do. For the third time this season, Ward had finished second to his younger brother.
"Jeff beat us out of the pits, then I got behind some lapped traffic and he was able to get away to a big lead," said Ward. "If I had been on his bumper, I don't think the 99 would have won the race."
"I think that's four times I've finished second.. one to Mark Martin last year and then three to Jeff," said the older Burton brother. "It makes me mad."
Jeff Burton led 71 of the 393 laps. He did not lead the most laps, however. That honor went to series points leader, Dale Jarrett, who ended up in fourth place at the finish. Jarrett led five different times for a total of 160 laps. It was the fourth time this season that Jarrett led the most laps in a race.
Burton's victory at Rockingham was the eleventh win of his 186 race career. It was his third straight top-five finish at the North Carolina Motor Speedway. The win moved him within 43 points of Tony Stewart in the 1999 Winston Cup points race. Stewart finished in twelfth place, a lap down.
The win at Rockingham was the 13 time a Ford Taurus has entered victory lane in 1999. That breaks the tie with Chevrolet, who has 12 wins this season. Pontiacs have entered victory lane 6 times this season.
Jarrett's Winston Cup point lead stands at 246 points over second place Bobby Labonte. Jarrett can clinch the championship by finishing 19th or better in each of the remaining 4 races.
Editors Note: For hundreds of hot racing photos and racing art, be sure to visit The Racing ImageGalleries and the Visions of Speed Art Gallery.