---
The Callahan Report: Floyd could be Tony Stewart's best friend
17 September 1999
By Terry Callahan
Motorsports Editor, The Auto Channel
Tony Stewart Ready For Super-Star Status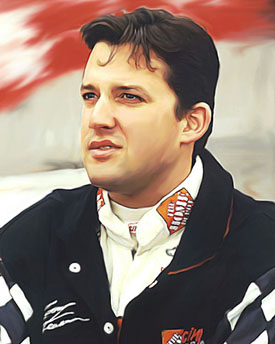 LOUDON, NH:
A windy guy named Floyd could be Tony Stewart's best friend. Hurricane Floyd has already disposed of qualifying for the NASCAR Busch North Series event in New Hampshire. It is sure to play a role in Winston Cup practice and qualifying as well. When the rains ended, drivers found that Floyd washed away all the rubber on the track. It will most likely be a slow and dangerous time for the drivers leading up to the 1998 Dura-Lube/KMART 300 this Sunday.
Enter the Tony Stewart notebook.
Stewart was untouchable here two months ago in the Jiffy Lube 300. His crew chief kept good notes. His team has brought the same car back to New Hampshire. The frightening thing to Stewart's competition is that the Joe Gibbs Racing Team has made some changes in an effort to make Stewart's car even faster. The bright orange Home Depot Pontiac will be fast, right off the truck.
The youngster from Indiana is on the verge of doing something no driver has ever done in NASCAR Winston Cup racing. No rookie driver has ever won back-to-back races in this series. Stewart is coming off a dominating win at Richmond last Saturday night. It was the first win of his short 25-race Winston Cup career. It should have been his second win. Had it not been for bad judgement during the Jiffy Lube 300, Tony Stewart would have matched the mark set by Davy Allison in 1987 by winning twice in his rookie season. He will make another attempt Sunday.
Tony Stewart had the first New Hampshire race notched, but his team decided to stretch the fuel. He ran out of gas with less than three laps remaining. He went from champ to chump.
Stewart is rejuvenated after his Richmond win. He has had the taste of victory in America's top racing series. He has won in the Indy Racing League, United States Auto Club (USAC) Midgets, Sprints, and Silver Crown cars. That was all different. His previous championships did not give him the notoriety like the win in Richmond. He has made more money selling Home Depot T-Shirts this season than he earned in all of his previous championships combined.
"One thing is for sure, we aren't going to run out of gas again," said Stewart. "We brought back the same car to Loudon, and we're confident about our chances."
His confidence is obvious. Stewart has been upbeat all week. It is a drastic turn-around from the way he felt the last time he visited the New Hampshire International Speedway. Stewart was so disgusted with the outcome, he left without a word to the media or his fans.
Known as the "Rushville Rocket", Stewart's biggest challenge at New Hampshire this weekend will most likely come from a driver who had the same upbringing. Jeff Gordon grew up racing on the short-fast tracks in the Midwest. Gordon has proven that he is always a threat at New Hampshire. He performs better in the second race than he does in the first. Gordon believes if anyone can beat the charging rookie, it will be him.
"There must be something about running at New Hampshire at this time of year," Gordon commented. "We've been able to hit on the setup for both fall races."
As confident as Gordon is about his own chances this weekend, he does acknowledge the fact that Stewart is set for super-stardom. He should know, since Stewart's path to success is much like his own. Both were USAC champions before entering the stock car ranks.
"With the kind of talent he has and the cars the Joe Gibbs team is putting under him, they're a tough combination to beat," said Gordon. "Once you start winning, there's no telling where it's going to stop."
With the help of a guy named Floyd, Stewart is not planning on letting his hot streak stop at New Hampshire.
Editors Note: For hundreds of hot racing photos and racing art, be sure to visit The Racing ImageGalleries and the Visions of Speed Art Gallery.