---
The Callahan Report: The competition may gain on Jarrett at Watkins Glen
13 August 1999
WATKINS GLEN, NY:
Dale Jarrett has been running away with the NASCAR Winston Cup championship lately. His competition may be able to close the gap a little this weekend at the "Frontier at the Glen".
Jarrett, consistent as he has been in 1999, is an average road racer. He was able to finish in fifth place at Watkins Glen last year. Half of that success was driver talent, the other half was teamwork. That powerful combination of teamwork and talent is the reason why Jarrett is well on his way to the 1999 championship. Even with the magical talent possessed by the Ford Quality Care team, Jarrett could easily finish outside the top ten on a road course. The main reason is because NASCAR is full of top-notch road racing talent.
Jeff Gordon

Jeff Gordon, who is struggling to maintain the sixth position in the Winston Cup points hunt, is always a favorite to win on the twisting turns of any road-racing event. He won the pole at the only other road course this season (Sears Point). Gordon is the defending pole and race winner at Watkins Glen. This weekend could be the first time in a while where Gordon is able to close in on Jarrett. Based on past performance, Gordon is the favorite heading into the race this weekend, by a very slight margin. Gordon has won the last two races at Watkins Glen.
There is another you Hoosier waiting to put his name in the record book. Most racing experts are surprised that it hasn't happened already. Tony Stewart has been impressive throughout his 1999 rookie season. He even impressed himself when he qualified on the front row earlier this season for the road-race at Sears Point. Until that time, Stewart had not raced competitively on a road course since he was twelve years old. Stewart should perform well at "The Glen". He may perform well enough to become a rookie winner.
Another road- racing great is expected to be a front runner at Watkins Glen. Mark Martin is still a little sore after tangling (and losing) with the wall at Daytona in July. He is well enough and determined enough to show why he is always a threat. Martin started this race from the seventh position in 1998, before finishing in second place. He is certainly a good bet for the race win. He also has the added incentive of knowing that he can gain valuable points on points leader, Jarrett. Martin has won this event three times (1993, 1994, and 1995).
Rusty Wallace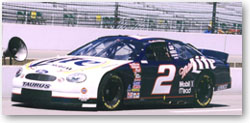 A NASCAR fan can't mention a road course without mentioning Rusty Wallace. He is certainly the master on the twisting and turning challenges of "The Glen". Wallace is a two-time champion in the New York hills. He has proven that he still has what it takes to be competitive too. Last year, Wallace finished in fourth place, after starting sixth. He is always an excellent qualifier and racer on any road course. Nobody would be surprised to see the Miller Lite Taurus sitting in victory lane Sunday afternoon.
Pontiacs have been doing well this season. Bobby Labonte, John Andretti, Tony Stewart, and Ward Burton have all been front-runners. Fans can expect to see a different representative from the Pontiac group towards the front this weekend. Kyle Petty has found that he and Watkins Glen "click". Petty is a former winner at this track (1992). He continues to show he knows how to charge into a turn. He charged all the way from 37th place last year to finish in sixth place. If Petty hopes to see victory in 1999, Watkins Glen is his best chance.
This week's dark horse contender is driving the Lowe's Monte Carlo. Mike Skinner ran a fuel economy race here last year and nearly won . He finished in third place but displayed an error free performance. He won the non-points-paying race in Japan a couple of years ago as well. Skinner has established himself as a serious threat on any road course. Expect Skinner to be there at the end this weekend.
NASCAR road racing only happens twice a year. The Cup drivers will be twisting and shouting at the "Frontier at the Glen" this weekend. Judging from the performance of the current Winston Cup Points leader, it may be the only chance the drivers have to catch Dale Jarrett. If Jarrett falters, his competition may make a request for the remainder of the season to be ran on road courses.
Editors Note: For hundreds of hot racing photos and racing art, be sure to visit The Racing ImageGalleries and the Visions of Speed Art Gallery.