---
IRL: Steve Knapp Suffers Broken Back in IRL Crash at Atlanta
19 July 1999
Steve Knapp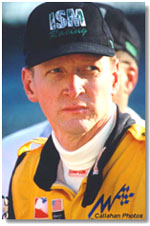 HAMPTON, GA:
Steve Knapp continues to rest in a local hospital after suffering fractures to bones in his back. The injuries resulted from a frightening crash during the running of the Kobalt Mechanics Tools 500 in Atlanta Saturday night.
Knapp, the 1998 Indy 500 rookie of the year, was involved in a four-car crash on lap 88. He spun in front of Ronnie Johncox, Jeff Ward, and Stephan Gregoire. All other drivers were uninjured in the accident.
Knapp is expected to be transported to an Indianapolis hospital this week. He will continue to receive treatment in Indianapolis.
Scott Sharp, driving the Delphi Automotive sponsored car for Tom Kelly, was the eventual winner of the race. It was Sharps first win of the 1999 Pep Boys Indy Racing League season.
Editors Note: For hundreds of hot racing photos and racing art, be sure to visit The Racing ImageGalleries and the Visions of Speed Art Gallery.