---
The Callahan Report: Gordon still wins with a 'sick' performance
28 June 1999
Jeff Gordon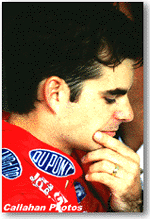 SONOMA, CA:
Jeff Gordon thought seriously about using a "sick day" late in the race Sunday at Sears Point Raceway. He couldn't talk due to the irritation in his throat. His flu symptoms, allergies, and laryngitis were almost more than he could tolerate. Mark Martin's image was growing larger in his rear view mirror with every passing lap.
Enter racing luck. Just when Gordon thought he could take no more, the red flag waved from the main flag-stand. Safety crews would need some time to clean up all the tires spread across the track from a horrendous crash involving Ricky Rudd and Ward Burton. It was exactly what the doctor (would have) ordered for Gordon. He was able to take on fluids and get a quick breather before making a final three-lap dash to the finish of the Save Mart/Kragen 350.
``I could tell I was just getting kind of worn out and I wasn't quite as sharp. I started making mistakes, and that's when Mark started catching us,'' Gordon said. ``Thank goodness the cautions came when they did because they saved us.''
The stroke of luck Gordon received helped him break a three-race-string of second place finishes. It was Gordon's fourth win of the 1998 season. He needs more good luck if he is planning to repeat as the winner of the Winston Cup championship.
A year ago, Gordon's performance at Sears Point marked the beginning of the end for his competition. After winning at Sonoma in 1998, Gordon held the points lead throughout the remainder of the racing season. This year, Gordon is struggling to hang on to fifth place. He is more than 350 points behind the Winston Cup leader, Dale Jarrett.
Gordon will require more assistance from lady luck during the last half of this season if he is going to be crowned "the champion" for a fourth time. It's almost as if his tough rival, Jarrett, can't fail this season. Even after turning in poor qualifying performances, Jarrett continues to finish well.
Jarret talked about his consistency, even after taking an off-course tour during the race. "I just slid off a little bit trying to get through that turn a little hard. The track was coming apart there and I lost one spot so that wasn't too bad. The pit crew did an awesome job today. That's what got us up there today to even finish in the top ten. We made the car pretty good. We've still got some work to do as far as our road course program. We'll take sixth and get on out of here. It's a tough place."
Mark Martin, who finished second, commented on his challenge for Gordon saying "We needed a long run. Without that last caution we would have had a better crack at it. Jeff (Gordon) was superior on fresh tires. But he didn't have fresh tires there at the end. Our car was pretty darn good, but he was in front of us and that's the worst thing. I couldn't find a way to get by him. I tried and couldn't get it done."
Gordon continues to defeat some of the best talent in the NASCAR Winston Cup circuit. He believes he is still in a good postion to take his fourth title. The other drivers who battle with him weekly also know he is capable.
Editors Note: For hundreds of hot racing photos and racing art, be sure to visit The Racing ImageGalleries and the Visions of Speed Art Gallery.