---
Jeff Gordon and the Rainbow Warriors Look To The Second Half
22 June 1999
By David Treffer
The Auto Channel
Jeff Gordon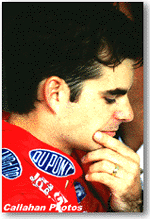 Daytona Beach, FL-
349 Points is a huge deficit to makeup in NASCAR Winston Cup racing. 349 points is the differential between current Winston Cup leader Dale Jarrett and defending champion Jeff Gordon. At the beginning of the season every team has dreams of winning the championship. Why else would you show up to race, if not to win? However, as the season wears on, it becomes apparent that there are only a few teams in Winston Cup that can muster and sustain a serious challenge for the championship. One of those teams is the Rainbow Warriors. This team is about to be put to the ultimate test of its preparation and belief in one another. The team is about to begin the assault of NASCARs version of Mount Everest.
So what has happened this year? In a recent interview, Gordon could not point to any one answer. Instead, it was several very frank answers. First and foremost, more teams are more competitive. Second, the Dupont sponsored team has suffered some bad racing luck at inopportune times. Last but not least, perhaps the distraction of a Busch team has caused some disruption in the teams focus. Whatever the reason, the one message that Gordon delivered at a recent press conference in Daytona is that this team will be focused for the second half of the season.
To examine this year one has to look at last year. In 33 starts last year, Gordon won 13 times, had 26 top five finishes and 28 top ten finishes. An incredible year. 1999 has been the year of asking "What have you done for me lately?" In 15 starts, Gordon has won three times, 9 top five and 10 top ten finishes. The problem, in those otherwise great statistics, is that there are also five races with a 31st or worse finishing position. Contrast that with the season that Dale Jarrett is currently enjoying. Two victories, 12 top five and 13 top ten finishes. In fact other than Jarretts 37th place finish during the season-opening race at Daytona he has placed no worse than 11th this year. Does the word consistent come to mind? That one word is the key to winning a Winston Cup..... "Consistency."
The Pepsi 400 marks the halfway point of the 34 race Winston Cup season. The Rainbow Warriors will begin to look for points wherever they can find them. As Gordon said in the interview "If it looks like we have a car that can lead for the most laps we will stay out there." Can they muster the challenge to fight for another Winston Cup? Perhaps Jeff Gordon summed it up best. "Ive got to try and not make any mistakes on the racetrack and finish the best that we can. On the other hand we cannot make up the deficit without the guys in front of me having some bad luck. Weve got to race just like we did last year."
So the second half of the season starts after this week-ends race at Sears Point. Some teams will take the time to assess the season. Something tells me that the Rainbow Warriors are going to be looking in one direction for that one word ....consistency!
Editors Note: For hundreds of hot racing photos and racing art, be sure to visit The Racing ImageGalleries and the Visions of Speed Art Gallery.