---
Formula One: Tony George: U.S. Grand Prix a Major Focus of Speedway's Vision
16 June 1999
Tony George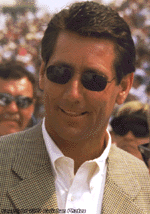 INDIANAPOLIS
-- Tony George's aspirations for the Indianapolis Motor Speedway haven't ended with the successful wooing of Formula One for the new millennium.
George, president of the most famous auto racing facility in the world, wants the Speedway to be the international leader in motorsports entertainment throughout the next 100 years.
"Today I can tell you, my family and I are firmly committed to this facility and the events," George said in a question-answer sessions with visiting Formula One media last week.
"We're working very hard to live up to our vision. Having the Brickyard 400 and having a U.S. Grand Prix secures that."
These races are the additions George has made to the venerable and historic Indianapolis 500 since he assumed control of the Speedway in January 1990. NASCAR conducts its sixth Brickyard 400 on Aug. 7 and the first Formula One event is scheduled for Sept. 24, 2000.
But George's vision goes beyond just the basics of being the only facility in the world to play host to three of the world's most renowned races showcasing the world's best drivers.
For instance, he told the F1 journalists he wants to put 200,000 fans in the seats for the first F1 visit to America since 1991. That would make it the largest-attended Formula One race on the circuit just as the Indy 500 and Brickyard 400 draw many more fans than any other race in their categories.
The three events should attract more than 1 million fans combined in 2000, adding the IROC race during the Brickyard 400 weekend and a proposed support race for the F1 race, along with qualifying attendance for all events.
"I think 200,000 is achievable," George said about crowd projections for the inaugural U.S. Grand Prix. "If it was wildly successful and we had demand for 300,000, then we would have to deal with that. It will be interesting to see what the response is when we begin our ticket sales efforts.
"I think our hope is we're going to price the event so it's a good value and people will want to come witness it and see it."
Ticket orders will be accepted Oct. 1, George said.
George understands that an American driver and an American team participating in Formula One would accelerate the interest level in the United States. It won't happen for the first race, but George plans to push for such participation in the future.
"I think it is something I personally will try and assess and put at least some support behind and try and see that it happens," he said.
"I think having an American-based team will add to the overall championship. It's a very tall order at this point. Certainly, a driver is achievable. But I think it would help to have a team as well."
A support race will accompany the feature F1 event, George said. He already has been contacted by a number of organizations such as Porsche Super Cup, Toyota Atlantic, the Ferrari Club and even the Mexican Formula 3, which is being revived next year.
But George's dream has him leaning in another direction. He wants the support race to be unique, something that will spark even more interest to the casual race fan. His idea is a Champions or Legends type race, although he doesn't have a preconceived idea on the actual makeup of the race yet.
"But I think it would be fun to get the Mario Andrettis and Nigel Mansells of the world together for some type of event," he said. "I don't know if that is possible or not. I think it would have a lot of interest."
George emphasized that any support race will be run on the 2.61-mile road course. There is just too much involved in changing from one setup to the other to make it viable to attempt to compete on both tracks at the same event.
The changeover from the oval to the road course was one of the reasons George said he didn't want to hold the F1 race in June.
Other racing organizations like motorcycles, sports cars and vintage cars have expressed interest in competing on the new course. George has started a file for future consideration.
"The reason we're building (the road course) is to host the U.S. Grand Prix," he said. "That's all I'm really focusing on right now."
George said the contract was multiyear. He added both sides realized that such a venture costing tens of millions of dollars needed a long-term commitment from each and that he expects it will go long beyond the length of the original agreement.
"Obviously, we wouldn't be doing this if we were only planning to have one," he said.
George said he first expressed interest in holding the U.S. Grand Prix inside the confines of the Speedway in 1991 and began seriously pursuing it when he learned Formula One would not be returning to Phoenix.
Originally, George said, Formula One leaders Max Mosley and Bernie Ecclestone wanted to make the Indianapolis 500 part of the World Championship, but George didn't feel that fit into the way they did things. George wanted the race to be run on a newly constructed road course and conducted as a stand-alone event.
Discussions broke off, but were resumed in September 1997.
"It took some time, I think, to get Max and Bernie to really see it that way," George said about his proposal. "And that's what led us to the announcement last December."
FOX will be the host broadcaster for at least the first U.S. Grand Prix. George noted that FOX is heavily committed to NFL football, but hopes that it will open an appropriate time slot for the F1 event.
George admits his racing orientation always has leaned toward open-wheel racing. His father, Elmer George, drove in the "500" during the 1950 and early 1960s, and his mother, Mari Hulman George, chairman of the Speedway board, owned cars during the same period.
George said the Indy 500 for him still is and will be the primary race at the track.
"No one loves this place more than I do and my family does," he said.
"And the Indianapolis 500 is very special. There is no question about that. For anyone who has ever witnessed it, they'd have to agree."
Editors Note: For hundreds of hot racing photos and racing art, be sure to visit The Racing ImageGalleries and the Visions of Speed Art Gallery.