---
The Callahan Report: Gordon Re-Visits Victory Lane in California
2 May 1999
Jeff Gordon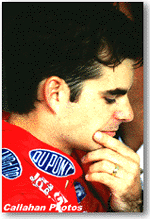 FONTANA, CA:
Jeff Gordon's failure to finish races in recent weeks has made NASCAR's top series a battleground. Prior to the California 500 Sunday, there had been seven different winners in nine races. While Gordon has been caught up in crashes and has suffered rare engine problems, other drivers on the NASCAR circuit have been gobbling up the spotlight. Gordon is not out of the championship picture by any means. He proved it Sunday by dominating the California 500. Gordon grabbed his 45th career victory in the process.
"I've been saying all year our team is better than it's ever been," Gordon said after the race. "All of the things we've been talking about . . . great cars, a great engine program, great pit stops . . . if we could just get some good fortune and have everything come together. Well, this was it."
Gordon, still feeling sore from the battles he has lost with the hard concrete on the NASCAR circuit, was visibly thrilled with Sunday's outcome. He is the first two-time winner of the California 500.
"It's a real special win for us because we wanted to put Texas and Talladega behind us," said Gordon. "We've had a little bit of bad luck lately, but we're only human and we're going to have problems. This is definitely a great momentum builder for us."
Despite his poor finishes at Talladega (38th) and Texas (43rd), Sunday marked Gordon's third win of the season. He visited victory lane at the prestigious Daytona 500 and in Atlanta earlier this season. The three-time Winston Cup champion has never been too far away from the front of the points race.
Sunday's win moved Gordon into fourth place in the championship race for 1999. Jeff Burton, who has been Gordon's biggest challenger this season, was closing in on Gordon at the end of the California 500. Burton moved around Bobby Labonte late in the race and put his sights on Gordon.
Burton was eating nearly a half-second per lap away from Gordon's lead. Luckily for Gordon, time ran out. Burton, driving the Exide Batteries Ford, remains the Winston Cup points leader. Gordon closed the points-race gap (five points) between himself and Burton by leading the most laps and winning the race.
Sunday's race between Gordon and Burton would have been much closer had it not been for some racing luck. Burton made a green flag pit stop at mid-race. Moments after he returned to the track, the caution flag came out. Gordon was in the pits when the caution period started. He was the leader after the competition pitted under the yellow flag. Up to that point, Gordon and Burton were putting on a great show for the packed house in Southern California.
"They had a great car and we had a great car," said Burton. "We just got caught in the pits and that cost us track position. Then, after we got back up there, we made an adjustment and made the car too loose.
"Gordon drove away from us and we never had a caution again to move us back up. Once he got half a straightaway in front of us we were pretty much done."
Gordon, Ray Evernham (crew chief) and his Rainbow Warrior pit crew proved by example just how important teamwork is in Winston Cup competition. Gordon spent little time in the pits on his last stop. Gordon's crew gave him four tires and fuel in 15 seconds on lap 209.
"Ray Evernham and the Rainbow Warriors gave me a great, great pit stop on the last one," Gordon said. "The car was just handling great all day long if we could just get in clean air. That stop got us out in clean air and that's what won it for us."
Evernham replied, "A lot of it's how fast the driver gets to pit road. Jeff did a great job of getting the car there in a hurry and the stop was perfectly choreographed. It was one of those stops where everything just lines up right, and maybe Bobby's (Labonte) guys didn't have their best pit stop.''
Mark Martin, a teammate to Jeff Burton, had an engine failure. The rare mechanical problem helped Gordon move up in the points. Martin dropped two spots in the point standings as a result of his non-finishing effort.
Behind Gordon, Burton and Bobby Labonte in the on track battle was rookie sensation Tony Stewart. The driver of the Home Depot Pontiac had his career best finish again this week. Stewart finished fifth at Talladega a week ago with another impressive finish. He is seventh in the Winston Cup Point Standings.
Dale Jarrett finished the race in fifth place, on Stewart's rear bumper. The finish was still good enough to keep Jarrett in second place in the points race. He is 55 points behind Jeff Burton.
Editors Note: For hundreds of hot racing photos and racing art, be sure to visit The Racing ImageGalleries and the Visions of Speed Art Gallery.