---
The Callahan Report: Bristol is Grass-Roots Racing with Big Name Appeal
12 April 1999
By Terry Callahan
Motorsports Editor, The Auto Channel
Rusty Wallace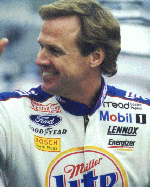 BRISTOL, TN:
The dust from NASCAR's Food City 500 at Bristol Motor Speedway has settled. Race fans from around the country flocked to the .533 paved high-bank track over the weekend, just as they do every year. They saw Rusty Wallace earn a long-overdue victory. It is not hard to figure out why Bristol is one of the most popular tracks on the NASCAR Winston Cup circuit. Bristol is grass-roots style racing with big-name appeal.
Tracks like Bristol are common throughout the country. Facilities like Bristol are unmatched.
The short track racing action at the popular Tennessee track is not all that different from history-smothered joints like Winchester and Salem. It is a fast and tight track which produces the paint-swapping action NASCAR fans adore. Simply put, if a race car at Bristol doesn't have someone else's paint embedded into its own paint scheme, the car probably stayed on the truck. The same goes for cars at any Saturday night race at a hundred short tracks around the country. Grass-roots racers put their sweat, money, and health on the line every weekend in hopes that they will someday be able to dent the fender of a car driven by a guy named Wallace, Gordon, Earnhardt, Jarrett, Martin, and others.
The key ingredient separating Bristol Motor Speedway from the all other short tracks is package surrounding the half-mile oval. Some call it "Thunder Valley". Some call it the "greatest short-track on the NASCAR Winston-Cup circuit." The fact is, Bristol Motor Speedway is awe-inspiring. While standing at the foot of the grandstands, looking upwards is like standing at the base of the World Trade Center. The seating goes high into the sky. As you turn around, you see that you are totally encompassed by a "skyline of seats." And on race day, all those seats are filled. When the green flag drops . . . the color, noise, and odor of fuel and burnt rubber are enough to make the toughest NASCAR fan feel the chill of goose-bumps on the back of their neck.
Then comes the show. While watching the bump-and-grind racing action, one can't help but feel they are watching "younger versions" of their racing heros. Virtually every driver running in the NASCAR Winston Cup series started their careers at tracks like Bristol. The difference between then and now is the life-style off the track. The drivers used to pull into these tracks with a pickup truck and a small trailer. Now they arrive in half-million dollar motor homes. Their cars arrive in an enormous shell of advertising-drowned sheet metal behind a matching big-rig tractor. Bristol brings the bigger-than-life stars of NASCAR back to earth. They remember the old days. Their thankfulness brings out the desire to give the supporting fans just what they came for . . . a show of metal crunching, spark-showering, competitive race.
The drivers did not disappoint Sunday. While Wallace dominated the race on paper, he did have challengers. His biggest challenge early was from a guy who, until last year, still had his race car pulled to the race track behind one of those simple painted pick-up trucks mentioned earlier. Tony Stewart is a rookie on the NASCAR Winston Cup circuit. And yes, he won the Pep Boys Indy Racing League Championship and drove in selected Busch Series races last season. Even though Stewart was a busy man in 1998, he still found time to run Silver Crown, Sprint Cars, and some Midget Cars. Stewart's appetite for short track racing is as big as any of the drivers in America's number one racing series.
Tony Stewart

Wallace was not surprised at Stewart's success at Bristol. He said, "That boy (Stewart) will win some races pretty soon, I think, because he showed some patience and he shows aggressiveness. He drives a real good line and the whole deal, so, to be quite honest, I was not surprised to see how good he ran because I've been watching him run pretty good all year long."
Wallace also had a close battle with Mark Martin with 150 laps remaining in the race. Wallace commented, "I knew that if you're gonna pass somebody you've gotta do it while you've got good, sticky tires. I knew Mark was strong and I knew if I was gonna get back around him, I just had to do it as quick as I possibly could. So when I caught him coming off of turn four, I just had a good head of steam." Wallace continued, "My nose was right up under his bumper and he really pulled over and just let me go by. He needed to get five points. He got his five points and when he got those five points he wasn't gonna fight no more it looked like and I was able to get back around him."
Wallace had another scare late in the race as Mark Martin caught him in the closing laps. He was able to keep the hard-charging Martin behind him at the end ... by a whopping two car lengths.
NASCAR fans have seen short-tracks falling off the racing schedule like hair falling off a middle-aged man's head. We can only hope that Bristol never falls prey to such a tragedy. If Sunday's running of the Food City 500 is any indication, their are no worries. Besides, NASCAR management is a pretty sharp bunch of knives. They realize that tracks like Bristol make fans visit the other fine short-tracks around this race-crazed country. Those visits to "other-tracks" keeps the funds flowing for the next batch of NASCAR Winston Cup stars.
Editors Note: To view hundreds of hot photos and racing art, please visit The Racing Image Galleries and The Visions of Speed Art Gallery

.