---
The Callahan Report: Teamwork, Strategy, and Luck Earn Moore Victory at Homestead
21 March 1999
HOMESTEAD, FL
: Greg Moore used all the proper racing ingredients to propel himself to victory lane at the Marlboro Grand Prix of Miami Sunday. Moore used teamwork, racing strategy, and luck to earn the win in the CART FedEx Championship season opener.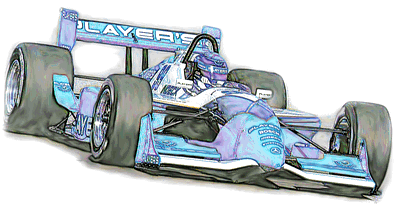 Greg Moore
After being denied victory a year ago because of a malfunctioning air jack, Moore came to Homestead with a big chip on his shoulder. Moore qualified on the pole and led the most laps during the race. He had to rely on a well calculated strategy from his team to do the rest. His team didn't let him down. They calculated his fuel mileage correctly ... to the last drop.
"I saw Dario (Franchitti) pit and I thought, 'Oh God, we're going to have to pit again,'" said Moore. "But my crew said, 'Stay out, stay out.' The Mercedes is really good on fuel mileage. I knew we could gamble and make it." Moore continued, "On the back straightaway the (fuel) light came on. I knew I had a half-gallon left, and that was enough.''
Moore worked with his team to get the car ready for the end of the race. The five time winner on the CART circuit is becoming a master at communicating problems with the car to his crew.
"I expected my car to be perfect from beginning to end and it definitely wasn't. At the beginning, we were very, very poor," Moore said. "At the end, when you need to be fastest, we were. That's the sign of a very good team."
Michael Andretti

Moore's rear view mirrors were filled by Michael Andretti during the final 37 laps of the 150 lap race. Andretti blames himself for being behind Moore instead of driving his way to the 38th win of his open wheel career. Andretti stalled his car in the pits during his final stop.
"I think we had the best car and I made a mistake on that pit stop when I killed the engine,'' Andretti said. "I don't know what happened. It was just a stupid mistake." He continued, "It cost us four points. Hopefully, those four points won't haunt us."
Moore realized he had used all the things required in racing. He said, "The difference today was we got a couple of lucky breaks."
Andretti made a charge at Moore on the final restart but was unable to get past the eventual winner. "I tried to get underneath Greg and he forced me to go down on the apron," said Andretti. "It ended up that (pass attempt) was for the win, so it was all right, but that was a pretty hairy moment for me."
Dario Franchitti finished third. Franchitti was critical of his team's fuel strategy, stating, "We could have won this race. We were ninth here last year, so I'm pretty happy ... however, we may have played it too conservatively trying to make sure everything would be okay."
Moore collected $100,000 for the victory in the Player's Mercedes. He beat Andretti's Ford powered Swift chassis to the finish line by 1.1 seconds. Moore averaged 136.671 mph over the race distance.
Editors Note: The images displayed in this article (plus many more) can be viewed in The Racing ImageGalleries and the Visions of Speed Art Gallery.