---
The Callahan Report: The Changing Face of NASCAR
15 March 1999
Jeff Gordon

HAMPTON, GA:
Jeff Gordon has seen more racing success than most veteran drivers twice his age. The young man whos name has become synonymous with NASCAR racing added to his long list of accomplishments Sunday by winning the Cracker Barrel 500 in Atlanta. It was Gordon's 44th career victory in Winston Cup racing.
"We worked on the car all day long,'' said Gordon, who already has three Winston Cup titles to his credit. "Once we got to working on it late in the day and the lights came on, that thing was a rocket."
Gordon beat Bobby Labonte to the finish line by more than two seconds. Gordon has become a master at sizing up the competition and attacking at the end of a race.
"His car all day long was a little bit loose on new tires,'' said Gordon. "We were pretty good with fresh tires. I was expecting late in that final run for Bobby to run me down like he had earlier in the race. But we got into some lapped traffic and that helped me."
Bobby Labonte was the favorite heading into the race weekend. He won the pole and has won at Atlanta on several occasions. "Right at the end it was one of those deals when our two tires didn't run good for me and his did," said Labonte. He led the race for 109 laps.
While Gordon continues to set the pace on the NASCAR Winston Cup circuit, there are several other young drivers making a name for themselves. Gordon battled throughout the day Sunday with young stars who are talented, hungry, and full of ambition. If the first four races of the 1999 racing season are any indication, Gordon had better get used to the company.
Tony Stewart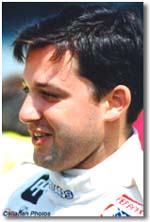 Rookie Tony Stewart snarled to the lead by the end of the first lap in Atlanta. He may have been a bit too ambitious. Stewart overheated his tires and drifted back. After his tires (and his head) cooled, Stewart began slicing his way back to the top. He finished in eleventh place with a quiet, but threatening performance. Gordon and Stewart battled each other on the short-tracks in the Midwest less than seven years ago.
Chad Little has a deceiving name. The driver of the number 97 John Deere Ford Taurus showed that his talent is very large Sunday. Little also put on a quiet performance as he made an error free run to a ninth place finish.
Mike Skinner is in his second year on NASCAR's top series. While not as young as Gordon and Stewart, he is as talented. He is probably hungrier than both of them. Skinner won the Busch Grand National race on Saturday and then had the race "taken away" after his car was found to be "illegal" during a post-race inspection. Skinner led the Winston Cup race for 79 laps Sunday. He had to have a battery replaced during one of the caution periods, but still finished on the lead lap.
Skinner has learned quickly how to run for a championship. He is running consistently in front of the pack. He is leading the early going in the Winston Cup points race. His team has already awarded his talent. He was signed to a multi-year contract with Childress Racing this weekend. Skinner has not finished outside the top-ten in the first four races in 1999. He finished sixth Sunday.
The face of NASCAR is changing. Throughout the eighties and early nineties, names like Waltrip, Earnhardt, and Elliott filled the racing headlines each week. Today those names are listed toward the middle or rear of the field. In fact, three time Winston Cup Champion Darrell Waltrip has used a "provisional start" to run in every race this season. Waltrip used his final provisional Sunday in Atlanta. He will have to qualify as one of the fastest 36 cars next weekend in Darlington, or he will be sent home.
Jeff Gordon continues to be the brightest of the shining stars in NASCAR. Some of the older stars are beginning to fade. There is an explosion of other stars waiting to take their place. Let the fireworks begin.
Editors Note: The images displayed in this article (plus many more) can be viewed in The Racing ImageGalleries and the Visions of Speed Art Gallery.