---
NASCAR-BGN: Mclaughlin is Ready for Blastoff in Daytona
6 February 1999
Mike McLaughlin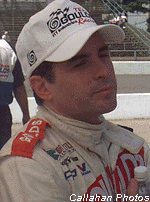 DAYTONA BEACH, FL
- 4,3,2,1, sound like a countdown to blastoff? Goulds Pumps driver Mike McLaughlin is hoping so. McLaughlin has qualified 4th, 3rd, 2nd, and 1st for the last four Busch Grand National races at Daytona International Speedway. McLaughlin is hoping that the 1999 race will bring as much success at the end of the weekend as he has had the last four years during qualifying for the season opening event.
Amazing as it sounds, McLaughlin has never finished on the lead lap at Daytona in 7 career starts. The Waterloo, NY native has been plagued by a variety of problems during the races. Last year, his fire extinguisher exploded during the middle of the race, causing McLaughlin to lose a lap and finish 18th. In 1997, McLaughlin suffered a rare engine failure while running in the top five. Accidents in his first three attempts ended the races for McLaughlin. The newly married McLaughlin, is hoping this will be the year to put all the problems in the rear-view mirror and start the season out on a high note.
"I have a crazy past at Daytona for sure," McLaughlin said. "The last four years we have had a rocket ship during qualifying, but something crazy has happened during the race. Everything is in place for a great run, we have an awesome, Ron Hutter engine, Charlie Bruenholzl has hung a great body for us and we have had two super tests at Daytona and Talladega. I feel great about our chances."
The NAPA 300 will also mark the first race for McLaughlin with new crew chief, Jay Smith. Smith brings a strong background of work in Winston Cup, Busch Grand National and Craftsman Truck racing. So far in testing, the two have hit it off well and developed a strong line of communication.
"Jay has proven his chassis abilities in our two tests," McLaughlin said. "So far he has been able to take all the information we have gathered and use it to make the car go faster."
McLaughlin will also have two more advantages that he hasn't had in past Daytona races, two front-running teammates. Just in case, McLaughlin needs that extra little push through the draft, he can count on Tim Fedewa and Todd Bodine to be there for him. Bodine returned to Cicci-Weliver Racing in midseason last year and Fedewa joined the team in the offseason.
Everything is in place for a successful start of the 1999 season, all McLaughlin needs now is a little bit of racing luck!
Editors Note: The images displayed in this article (plus many more) can be viewed in The Racing ImageGalleries and the Visions of Speed Art Gallery.