---
NASCAR-WCUP: Irwin Enters Second Daytona 500 with Enthusiasm
6 February 1999
Kenny Irwin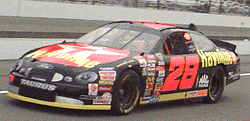 DAYTONA BEACH, Fla. -- It is easy to see why Kenny Irwin, the 1998 NASCAR Winston Cup Rookie of the Year, is excited about returning to Daytona International Speedway for the Daytona 500 and the events leading up to the Feb. 14 race.
Irwin had considerable success at Daytona during his rookie season. He won the ARCA race in February and drove his Texaco/Havoline Ford to a 19th-place finish in his first Daytona 500. Then in the inaugural night race at Daytona in October, Irwin started 11th and led for 15 laps before an accident ended his hopes for a top- five finish.
"I feel a lot more comfortable than I did last year," said Irwin. "I had a lot of anxiety when I arrived in Daytona last February. Now I know more of what to expect from the 125-mile qualifying races, and I've had more time on the track. I think the Bud Shootout will be a lot of fun, and getting to run an extra race will also help."
Irwin became eligible for the 1999 Bud Shootout after capturing his first Winston Cup pole in Atlanta last November. He will start the Bud Shootout from the second starting position this Sunday.
Irwin is not the only one looking forward to returning to the superspeedway. The entire Texaco/Havoline crew and team owner Robert Yates are also anticipating good things after a successful test at Daytona in January.
During those manufacturers' tests, Irwin posted the fifth and sixth fastest lap times among the Fords and ranked 12th and 13th in the final cumulative results.
"The testing in Daytona went very well," said Irwin. "We took two cars, one car that we ran in last Julys race here and a brand new car that we're hoping to run in the 500. We felt like they both ran about the same, but we believe we can do more things with the new car to make it run faster for 500 qualifying.
"The thing about testing in Daytona is that you never know which car will be your best race car. You know which will be your best qualifier, but you never know with a brand new car until you actually run a race in it.
"We think we'll have a good run."
Editors Note: The images displayed in this article (plus many more) can be viewed in The Racing ImageGalleries and the Visions of Speed Art Gallery.