---
Weaver and Theys Lock in Top Spots for Rolex 24
28 January 1999
Can-Am class pole winner James Weaver Listens to second fastest qualifier Didier Theys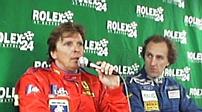 Today during qualifying for the 37th Annual Rolex 24 at Daytona International Speedway, James Weaver took the pole for Saturday's race in the Dyson Racing Team's number 16 Goodyear/Bosch/Hella Riley & Scott car. Weaver had the best time of the day on his third qualifying lap in the Can-Am car, with a lap time of 1:40.869 and a speed of 127.05 mph. Didier Theys, in the Doran/Lista Racing Team's number 72 Lista Ferrari 333 SP, came in second for the day with a lap time of 1:42.070 and a speed of 125.56 mph. The Lista Ferrari is also in the Can-Am class.
Didier Theys and the Lista Ferrari (Can Am)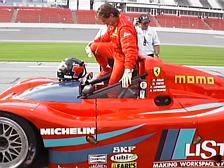 Today's qualifying session locked in the top two positions for each of the three classes racing in the Rolex 24 at Daytona. Starting time for the 24 hour race is set for Saturday, January 30, at 1:30 pm.
The top fourteen qualifiers were Can-Am cars, followed by the two fastest two GT2 cars: the Corvette Racing Team's number 2 GM Goodwrench Chevrolet Corvette C5-R in fifteenth place with a time of 1:48.924 and a speed of 117.66 mph; and the Viper Team Oreca's number 50 Mobil 1/Mopar Performance/Michelin Viper GTS-R with a time of 1:49.167 and a speed of 117.39 mph.
The Jennifer Fund Porsche (GT3)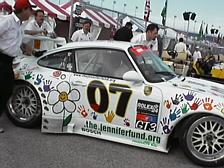 Top qualifiers for the GT3/GTT class were RWS-Brun Motorsport Team's number 25 Porsche 993 RSR with a time of 1:57.401 and a speed of 109.16, followed by the G & W Motorsports Team number 07 Jennifer Fund/Pirelli Porche 911 with a time of 1:57.626 and a speed of 108.95 mph.

You must have the free Microsoft Media Player to hear these audio clips.