---
The Callahan Report: A Wintertime Guide for NASCAR Fans
31 December 1998
By Terry Callahan
Motorsports Editor, The Auto Channel
Reflecting back on the 1998 NASCAR Winston Cup season, there are more goose-bump-producing memories than there are beer cans in the infield at Daytona in February. The Auto Channel was there to cover many of those memories. They have been "stored for life" in order for race fans around the world to get through the tough winter season.
Some suggestions:
Dale Earnhardt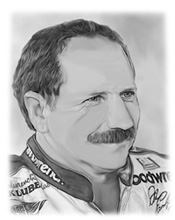 The season started off with the greatest of all memories. Dale Earnhardt finally got the "no-win" monkey off his back at the Daytona 500. Click the artwork to the right to re-visit all the action from the 1998 Daytona 500, including Dale's emotional interview in victory lane. The interview is located in the nightly wrap-up coverage from Daytona section. If you have not downloaded the required software for viewing audio/video provided by The Auto Channel, click here.
The Auto Channel Motorsports Report with Walt Glatthaar provided viewers/listeners with valuable racing information throughout the entire Winston Cup season with great detail. Not only did Walt capture the highlights from NASCAR, but he also reported on CART, IRL, Formula One and other racing series. Hours of coverage can be enjoyed by clicking here.
If you need more NASCAR memories, Raceline is the place to get it. Host Joe Moore takes you through the 1998 Winston Cup season week by week. Raceline is designed for he NASCAR fan who cannot get enough. Click here to view all the available Raceline broadcasts on The Auto Channel.
If pictures are more your style, The Auto Channel has that for you too. Hundreds of photos documenting the action at Daytona and "The Brickyard" have been posted for your viewing pleasure. All photos are made available for personal use (download them for use as a wallpaper if you wish). View the photos here.
If you are a NASCAR addict, click through The Auto Channel's archives to help you get through the winter.. February can't get here soon enough!! Have an excellent new year.