---
NASCAR Night At The Smithsonian
16 December 1998
Washington, D.C.
--Some of the most powerful and influential people in NASCAR racing have been invited by the world-renowned Smithsonian Associates to make a two hour presentation elaborating on the history, present success and future goals of the organization responsible for the fastest-growing sport in North America.
Jeff Gordon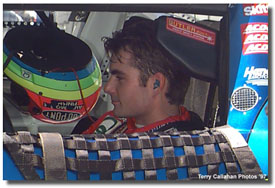 NASCAR's Night at the Smithsonian takes place at Lisner Auditorium on the campus of George Washington University on Tuesday, December 15 from 7:30-9:30 p.m. Tickets are $30 for general admission, $25 for Smithsonian members and $15 for senior citizens and full-time students with student IDs. Parking is available in the parking garage on I Street N.W. between 22nd and 23rd Streets. For ticket information and other questions, call 202/357-3030.
NASCAR executives Bill and Brian France will be joined by a potent group of past and present NASCAR champions, including Jeff Gordon, Richard Petty, Darrell Waltrip, Dale Earnhardt, Jr., Ron Hornaday and Kyle Petty.
The event will be co-hosted by Brian Williams, anchor and managing editor of MSNBC's 'The News with Brian Williams' and anchor of Saturday's NBC 'Nightly News with Brian Williams,' and George Michael, sports anchor of WRC-TV in Washington, D.C. and the host of the nationally syndicated 'George Michael Sports Machine.'
The group will be asked several questions on the past, present and future of their sport by an emcee. The all-star panel will then respond to questions from the audience in an open-house format.
In addition to the ticket-buying public, the audience will include VIPs from the Washington, D.C. area, plus Smithsonian members and media.
"Invitations like these represent the recognition that NASCAR is no longer just 'down home', it's 'uptown', too," said NASCAR president Bill France. "Our trip to the Smithsonian proves that NASCAR is here to stay and ready to take its rightful position at the top of America's sports ladder."
"The Smithsonian Associates' mission includes presenting all facets of American culture to Americans, and NASCAR certainly is representative of a large cross-section of the American culture," said Smithsonian Communications Director David J. Umansky. "It's a pleasure for us to begin what we hope will be a long, continuing relationship with NASCAR."
In addition to its visit to the Smithsonian, the NASCAR group will spend the day in Washington, D.C. to visit with Westwood One Radio, Associated Press Radio and National Public Radio for interviews; lunch with the Washington Post; a visit with reporters and editors at USA Today; a photo op with drivers and the 50th Anniversary show car; a visit to the White House; and live shots with local television outlets.
Editors Note: The images displayed in this article (plus many more) can be viewed in The Racing ImageGalleries and the Visions of Speed Art Gallery.