---
NASCAR WCUP: Gordon Named Driver of the Year
25 November 1998
Jeff Gordon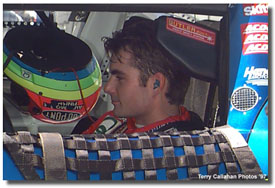 SARASOTA, FL:
NASCAR Winston Cup driver, Jeff Gordon, has won the 1998 Driver of the Year Award. Gordon won the award by virtue of his 13 victories this season on NASCAR's top circuit. Gordon equaled the record for wins in a single season. He tied "king" Richard Petty when he won the final race of the year in Atlanta.
This is the third time in his young career Gordon has won the prestigious award. He joins the elite company of Darrell Waltrip and Mario Andretti as the only drivers to win the award three times. Gordon, age 27, has a long racing career ahead of him.
``The Driver of the Year is a very special award, and for me to be in the same sentence with that caliber of race car drivers just blows me away when I think about it,'' said Gordon. ``I'm really proud of what we accomplished.
``After a fine season last year, I was asked what we would do for an encore and I said we'd just go out there and try to win more races and try to win another championship. That's what it's all about for us, but last year was hard to top.''
A nationwide panel comprised of fifteen voters made the announcement Wednesday.
Gordon captured his third Winston Cup title in 1998. He also won the Driver of the Year award in 1995 and 1997. He won the Winston Cup in those years as well.
Editors Note: The images displayed in this article (plus many more) can be viewed in The Racing ImageGalleries and the Visions of Speed Art Gallery.