---
USRRC: Can-Am Champ Weaver on AARWBA All America Team Ballot
25 November 1998
JOINED BY FELLOW USRRC DRIVERS LEITZINGER, BRABHAM AND WALLACE
James Weaver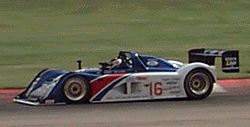 ENGLEWOOD, Colo.-- United States Road Racing Championship drivers James Weaver, Butch Leitzinger, David Brabham and Andy Wallace have been nominated as Road Racing candidates for the 1998 Auto Racing All-America Team by the American Auto Racing Writers & Broadcasters Association (AARWBA).
Weaver recorded two wins and two poles en route to top-three finishes in all five races and the 1998 Can-Am Drivers Championship. This was Weavers second major motor racing title, joining the 1996 BPR Global GT Championship. Weaver teamed with Leitzinger, who finished second in the Championship, for both wins and also drove to four wins in the PSCR WSC series, in which Leitzinger was named Champion.
Wallace finished second to Thierry Boutsen in the USRRC GT1 Drivers Championship with two wins and two poles in four races. Brabham teamed with Wallace twice, winning one race and one pole with a another pole in the team car to Wallace at the Rolex 24 At Daytona to finish sixth in the Drivers Championship. Both drivers were named co-Champions of the PSCR GT1 class with six wins.
The AARWBA All-America Team annually recognizes the top-12 drivers from the motorsports year. Votes are collected from the AARWBA membership in six categories--road racing, stock car racing, open wheel racing, drag racing, short track and at large. In addition to the All-America Team, the balloting will also determine a second team, drivers placing third and fourth in each category, and honorable mentions to all drivers receiving at least five percent of the vote.
AARWBA All-America Team honorees and the All-America Team's driver of the year, who receives the Jerry Titus Award, will be announced and recognized at the All-America Team Banquet at the Hyatt Regency in Long Beach, Calif., on Jan. 16, 1999. The banquet is open to the public. Ticket information is available from AARWBA, 922 N. Pass Ave., Burbank, Calif. 91505, or call (818) 842-7005.
Weaver has one All-America honorable mention to his credit and Leitzinger has one first team and two second team honors. This is the first AARWBA ballot for Brabham and Wallace.
Editors Note: The images displayed in this article (plus many more) can be viewed in The Racing ImageGalleries and the Visions of Speed Art Gallery.