Hey Pennzoil! Steve Park Remembers Giving Rides to Skinny Girl Named Mariah Carey
19 November 1998
Steve Park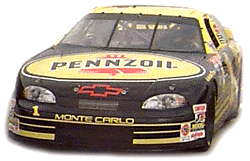 #1 Pennzoil Monte Carlo driver Steve Park is a 1985 graduate of Northport High School on Long Island, N.Y. and, like most people, he has many stories about hanging out after school, riding around in his '71 Chevrolet Cheyenne truck driving friends to burger and pizza joints. But almost 15 years later, Park's high school stories take on a new twist considering the success of one of his running mates Mariah Carey - the biggest selling female singer in the 1990s.
Neither Park or Carey probably knew that racing or singing, seemingly trivial pursuits to their friends, would someday turn into lucrative careers. Park is now a rising star in NASCAR Winston Cup racing with Dale Earnhardt Inc. while Carey's recently released album Butterfly promises to add to the 80 million albums she has sold since 1990. Those high school acquaintances now share in fame, fortune, Internet sites, souvenirs and fan clubs. A long way from the days of sharing rides home on Long Island.
Here is the story in Park's words:
"I went to Northport High School on Long Island but I dated a girl at Harborfields High School in Greenlawn about a ten-minute drive away. This had to be about 1984. I had a drivers license and a truck so about three days a week I'd drive over to Harborfields after school to pickup my girlfriend and give her and her friends a ride home. Sometimes we'd go driving around or go get something to eat. One of her friends was this skinny girl named Mariah. My girlfriend and Mariah lived about two or three blocks from each other in Centerport. What I remember most about Mariah is that her mom was real strict and there would be times we would try to get Mariah to go out with us but she couldn't because she had to take singing lessons. Heck, I remember feeling sorry for her. But, she seemed like a really nice girl, kind of quiet, but really nice.
"I could kind of relate to her because I was in the same position. I missed a lot of time hanging out with my friends because of racing. It was hard for people to understand why I did what I did just as I remember thinking why in the world would that girl spend so much time on something as silly as singing lessons. After my girlfriend and I went our separate ways, we still remained really good friends. I remember one day a few years later when I had moved to Connecticut and my former girlfriend called to say, "you won't believe this but there is a radio station up here playing a song by Mariah." That was really cool. I had lost track of Mariah after I moved off the Island, but I remember that was the first person that I had ever known that was singing on the radio. I guess everyone knows the rest of Mariah's story.
"It seems like those silly singing lessons that I laughed at in high school really paid off. But, like I said, I can relate. I think all the time I spent working on cars and at the race track paid off for me. Her mom got her involved in singing and my Dad got me involved in racing. I'm sure my bank account isn't quite like Mariah's is right now, but whose is? Both of us have managed to get where we really wanted to go and I doubt she ever thought I would amount to much and I sure never expected her to be about the best singer in the world. She'd probably laugh if you told her that the guy that gave her rides in high school turned out to be a NASCAR driver. I haven't spoken to her and I don't even know if she remembers me. But, I remember her. It's funny how things work out. I guess it really is a small world."
Editors Note: The images displayed in this article (plus many more) can be viewed in The Racing ImageGalleries and the Visions of Speed Art Gallery.