---
NASCAR BGN: McLaughlin Heads to Miami
13 November 1998
Mike McLaughlin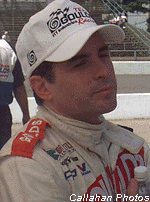 HOMESTEAD, FL
-- The 1998 Busch Grand National season is sure to bring a smile to Mike McLaughlin's face when he sits down years from now and reflects on his career. With 2 wins and a 3rd place points championship finish, McLaughlin raced to his best Busch Series season ever. A few breaks here or there and McLaughlin could have been the one laying claim to the 1998 Championship. McLaughlin equaled his career best numbers with 2 wins and set new personal highs with 11 top-fives and 16 top-tens with one race remaining.
The 1998 season marked the first year for Goulds Pumps as the sponsor of the #34 Chevrolet Monte Carlo owned by Frank Cicci, Scott and Jeff Welliver. Goulds Pumps had served as an associate sponsor on McLaughlin's car the past two seasons before making the commitment to serve as primary sponsor for 1998. Goulds Pumps is based in Seneca Falls, NY, just down the road from McLaughlin's hometown of Waterloo, NY.
"Our race team has had a really strong season, they have given me awesome cars all year long," McLaughlin said. "We gave Matt (Kenseth) and Dale (Earnhardt Jr.) a run for their money there for a while. We will make some improvements in the off-season and try to knock them off next year. I want to congratulate both of those guys on incredible seasons, those guys and their teams are awesome."
McLaughlin also faced the challenge of a crew chief change in mid season. Gary Cogswell was replaced by Steve "Big Guy" Helwig in August and two jelled right away. McLaughlin and Helwig have been friends and teammates since McLaughlin began racing. In just his sixth race as crew chief, Helwig guided McLaughlin to Victory Lane at Charlotte Motor Speedway.
"We went through a few changes on the team this year, but my guys kept working hard and never gave up," McLaughlin said. "Big Guy stepped right in and did a great job in all the races, it was so exciting for us to win together in Charlotte."
Now with only one race to go, McLaughlin can look forward to some quality time away from the track. But first, McLaughlin is looking to make it three wins for the season, by visiting Victory Lane at Homestead on Sunday. McLaughlin grabbed the pole position for last year's race and hopes to close out the season on a high note this weekend before starting his off-season.
"We have a little bit of business left to accomplish this weekend before I can turn my attention to the off-season," McLaughlin said. "I am headed home to Waterloo for a few days and then my fiance, Katie and I are headed to Hawaii. The next month and a half will be fun, but once January arrives, I know I will be anxious to climb back into the Goulds Pumps Chevrolet."
Editors Note: The images displayed in this article (plus many more) can be viewed in The Racing ImageGalleries and the Visions of Speed Art Gallery.