---
NASCAR-WCUP: Rough Ride for Robert at the'Rock'
3 November 1998
Robert Pressley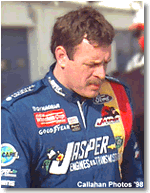 Rockingham, NC -- After last weeks finish in Phoenix (Jasper Motorsports 5th best finish of 1998), our team looked to carry the momentum into the sand mountains of North Carolina at a track they call the Rock.' Big Mo (momentum) was carried through the first practice session as the Jasper Contingent was ninth quickest overall. From there Jasper took a spin literally. Robert came out of turn four doing a 360 to a stop on the front stretch. Roberts expert driving kept him from hitting anything. From there it was off to first round qualifying, and big Mo had disappeared.
We would take the green flag from the 40th starting position, on a provisional. We would make a move early and up to the 34th spot on lap 26. Then the 97 car glanced off the wall on the backstretch and the first caution flag flew. Robert radioed to Newt Moore (crew chief) and reported that the car was loose from the center of the corner out. Adjustments included air pressure and track bar, along with the regular four Goodyear Tires and a full fuel cell of UNOCAL 76 Racing Fuel. From there the ride became rocky for Robert and the Jasper Motorsports Team.
The #77 got into the wall on several occasions and the reason was that the car would not turn. A tire went flat, and we went to pit road to check the reason for the problems. All front end parts seemed in order and the only other thing that it could be was the steering box. A problem that could be fixed but would have to be done behind the wall. That meant many lost laps.
From there, the Jasper Team went back out on to the race track. A new steering box, the problem fixed but with no hope of sitting in victory lane. The Jasper Team stayed on the race track, many laps down, and finished the AC Delco 400 in the 38th spot.
The 1998 season finale in Atlanta is next weekend. It is so important to finish well as that is what teams will ponder until speedweeks in Daytona the second week in February.
Editors Note: The images displayed in this article (plus many more) can be viewed in The Racing Image Galleries and the Visions of Speed Art Gallery.