---
NASCAR WCUP: Park Ready To Revisit Atlanta Motor Speedway
2 November 1998
First Visit To Track Where He Suffered Broken Leg And Other Injuries In March
Steve Park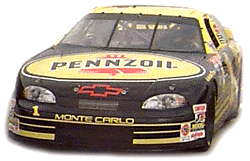 On March 6, Steve Park's driving career nearly ended in the fourth turn of Atlanta Motor Speedway. A mechanical failure in the right front of the #1 Pennzoil Monte Carlo sent Park careening into the wall. The rookie driver suffered a broken right femur, left collarbone, and right shoulder blade. Park missed 13 races over a 4-month period while Darrell Waltrip substituted. Park's return came on Aug. 1 at Indianapolis where he was running as high as fifth before a late race accident ended his day. Since Park's return, he has posted several good runs and decent finishes as well as fought mechanical problems and accidents. The season-ending race at Atlanta marks Park's first return to the speedway where he was injured.
Have You Been Back To Atlanta Since The Accident?
"No. I haven't been back there. We have a pretty good race package for the Pennzoil Monte Carlo at Atlanta and we raced really well there last year in the #14 car so we feel pretty good about that track. You test where you need help. So, we wanted to use our test dates this year at other places.
Will You Think About The Accident?
"Sure, I think it's only human to think about it. But, that won't last long. That track is too demanding to be thinking about that accident or anything else other than driving the Pennzoil car through those corners at 200 mph. This might be hard to believe but what I really am thinking about is how good we are going to be there. I think Atlanta might be the track where I have run the best in Winston Cup and I hope that's where we can get our first top ten. I think Atlanta would be a great place for that."
What Do You Remember About the March Accident?
"When you hit the wall of Atlanta Motor Speedway at almost 200 mph you aren't going to remember much and I don't. I only remember the car was running great and we were all pumped up. We were doing qualifying runs just trying to make sure the car was fast enough for a top five or to sit on the front row. It was just a routine day. Something happened in turn four. I think something broke on the right front of the car and made it do a hard right into the retaining wall. That is all I remember until I woke up with the workers pulling me out of the car."
Did The Wreck End Chances For The Rookie Of The Year Award?
"Missing 13 races pretty much ended our chances for rookie of the year. We ran as well as we could but there really isn't much we can do about it. I think Kenny (Irwin) and Kevin (Lepage) and Jerry (Nadeau) have had pretty good years but I wish we could have had a chance to compete with them more. I look at this as a missed opportunity, but what can you do except make the best of what has happened."
Have You Physically Recovered?
"I still have the rod in my leg which is going to come out someday. My limp isn't as bad as it was. It hurts from time to time, but it's getting better each day. I work out pretty hard several days a week with a personal trainer so I'm probably in better shape now than I was before the wreck. Everything else is fine."
Thoughts On 1999?
"I can't wait to get to Daytona and start the 1999 season. I've gotten my bad injury out of the way early in my career. So, now I can focus on winning races. Everyone starts with the same points at Daytona. We should be a lot better. This Pennzoil team will have a year's experience under its belt and we can just concentrate on doing well. Our goals for 1999 are to continue to keep improving and do everything we can so that one day we can be one of the cars that contends for not only victories but championships. You know Earnhardt, he isn't going to settle for anything less than a championship as a driver and I don't expect it is much different with him as a car owner."
How did Darrell Waltrip Help This Team?
"Darrell really helped this team out both on and off the track. Remember we are a new organization. We aren't one of the big teams that just added another team. Everything we did was new this year. New crew guys, new motor program, new cars, new race shop, new everything. So, someone as outgoing and knowledgeable as Darrell coming in here really turned out to be a real benefit. He helped us grow. He helped us learn to communicate with each other and I think we helped him too. He's been there and done everything and we are all new. I will always be thankful DW, Stevie and their girls."
How Tough is Winston Cup Racing?
"I knew Winston Cup racing was tough, but didn't realize just how tough it really is. Everything from the cars to the crews to the race officials are the best in the sport. To win here you have to almost be perfect."
Editors Note: The images displayed in this article (plus many more) can be viewed in The Racing ImageGalleries and the Visions of Speed Art Gallery.