---
CART: Paul Tracy Banned From Competition
31 October 1998
Paul Tracy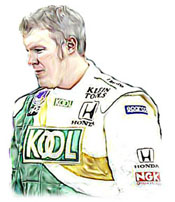 FONTANA, CA:
For the first time in the history of Championship Auto Racing Teams (CART), a driver has been banned from competition. Paul Tracy, driving for Team KOOL Green, will not be allowed to participate in the 1999 season opening race at Homestead, Florida.
The penalty is a result of on track contact between Paul Tracy and Michael Andretti during the Indy Carnival race in Queensland Australia two weeks ago. CART officials ruled that Tracy took an unjustifiable risk when he made a "double block" on Andretti.
CART Chief Steward, Wally Dallenbach said, "Every driver in our series is well aware of the section of our rule book regarding blocking. You are allowed one move and, after that, any other move is considered blocking. Paul's block on Michael resulted in contact at about 180 miles per hour, and we are fortunate that it did not result in a more severe consequence."
Dallenbach continued, "There were several factors that went into reaching this decision. In addition to the high risk of the move by Paul we reviewed his on-course incidents and penalties incurred throughout this season and felt a more stringent penalty was appropriate."
The incident in Australia resulted in Tracy's fifth penalty of the season. Penalties have ranged from unjustifiable risk to unsportsmanlike conduct.
Editors Note: The images displayed in this article (plus many more) can be viewed in The Racing ImageGalleries and the Visions of Speed Art Gallery.