---
Guest Editorial: Pep Boys IRL on Right Track
29 October 1998
By Tim Tuttle

MCI Racing Online Correspondent
Tony Stewart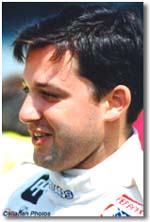 LAS VEGAS, Nev. -- Tony Stewart, the Pep Boys Indy Racing League's first homegrown star, is leaving for NASCAR's Winston Cup series. The IRL has lost one of its original venues, New Hampshire International Speedway, after three years of poorly attended races. At least a half dozen of its entries have little or no sponsorship and are barely holding on financially.
These are some of the dark clouds that hovered over Tony George's creation as it finished its second full season Sunday, Oct. 11, at Las Vegas Motor Speedway. But even though they are warheads which critics will undoubtedly rocket-launch during the offseason -- and will do some damage to the IRL's credibility - George's show will take its hits and soldier on, starting in January 1999 at Walt Disney World Speedway in Orlando, Fla.
The IRL has primarily survived and sometimes thrived in its brief history, and there is a tendency to forget it is but a mere 25 races old. When I look at it from that perspective, the positives of what George and the IRL have accomplished far outweigh the negatives. The macro look to the future is much better than the micro.
True, the IRL did lose some teams in 1998. Scandia, Blueprint, Chitwood and Pagan all fell by the wayside, tapped out of money. Even so, there were 28 cars in the majority of races this year, including the Las Vegas finale. New teams like Kelley Racing, Pennzoil Panther Racing and ISM Racing replenished the fields.
IRL teams continue to have trouble finding sponsorship, but companies like Pep Boys and MCI signed on as major sponsors this year, joining companies like Pennzoil, Crest and Delphi Automotive Systems (replacing another General Motors unit, Delco Electronics) that were already in the fold. Coors, which replaced Miller as the Indy 500 pit-stop sponsor at Indy in 1996, is seriously stepping up its involvement next year with full series sponsorship and promotional support.
The IRL obviously needs more sponsors to reach the levels of NASCAR's Winston Cup and CART's FedEx series, but when people say the IRL has no sponsors, they don't know what they're talking about. There was substantial growth in the IRL in 1998.
True, New Hampshire offered a first-class facility and a Northeastern venue. But it offered little else. The Bahre family, which owns the speedway, did not promote the IRL event and the low turnouts were an embarrassment that added nothing to teams soliciting prospective sponsors. The IRL had hoped to add a venue or two for 1999, but has instead maintained its 11-race schedule by awarding a second date to Pikes Peak International Raceway in Colorado.
Pikes Peak drew a crowd of 32,000 this year. How will a second date be received? Whatever, it certainly will be an improvement on the 18,000-20,000 at New Hampshire this year.
One of the IRL's greatest strengths is its venues. Atlanta, Texas, Charlotte and Las Vegas are magnificent facilities, built for the 21st century with vast spectator amenities and seating capacities in excess of 100,000. Texas attracted more than 80,000 for its night race in June, then came back with more than 70,000 for its day event in September. Considering the near 100-degree heat on race day and the fact it was a second show in the same market, Texas' turnout was remarkable.
Meanwhile, Charlotte drew more than 70,000 spectators, Atlanta over 50,000 and Las Vegas an estimated 42,000. These are more than respectable numbers for major-league racing, and they should increase in the future. The importance of fan-friendly venues cannot be underestimated, and they offer tremendous potential for growth.
Yes, the commercial side of the IRL needs to reach the next level. But the foundation to do so is good, and from a pure racing standpoint, the IRL delivers what is says it wants to provide: good, cost-effective competition.
The normally aspirated 4-liter engine formula and chassis that are tightly regulated in terms of aerodynamics work well together. IRL cars draft and they pass -- both crowd pleasers -- and nobody runs away from the field. With the exception of Dover, Del., where cars took a real beating, every IRL race this year had at least three cars on the lead lap at the end, and there were seven different winners in 11 races.
Moreover, the IRL cannot be accused of being "low-tech." In reality, virtually all racing series have restricted technology, including Formula One and CART. But they still generate 750 horsepower and -- at 220 mph -- at least 4,600 pounds of downforce. In the laws of physics, this equates to cars going 220 mph at several IRL tracks.
One of George's goals in starting the IRL was to slow down the cars, to bring them closer together. That, he has achieved. By reining in his cars, George has enabled his league to race on the high banks of America's most modern facilities -- a highly successful element in establishing the IRL.
To be sure, George already had the Indianapolis 500 to build his IRL around, and without the likes of Al Unser Jr. and Michael Andretti in its fields the past three years, the Indy 500 has lost prestige and some marginal revenue. But as president of the Indianapolis Motor Speedway and leader of the Hulman-George family, George actually increased his bottom line by launching NASCAR's Brickyard 400 at Indy. The Brickyard produces an estimated $25 million profit that didn't exist before easily covering the Indy 500's lost revenue and the cost of operating the IRL.
The Indianapolis 500 still sells out on race day, its 5.5 rating on ABC-TV is still the largest television show in open-wheel racing, and it remains an extremely valuable and viable promotional property.
George's commitment to the IRL has not wavered. My view is that he's more committed to it than ever, having survived three trying years without CART drivers in the Indy 500.
Although it's a different time in America and a different sport, the IRL reminds me of the early days of the American Football League. In 1959, Texas oil millionaires Lamar Hunt and Bud Adams, and hotel magnate Barron Hilton all applied to the National Football League for expansion franchises. They were turned down, told that the United States didn't have enough players, fans, sponsors and television to support more pro football.
So Hunt, Adams and Hilton started their own league, using older players (like Len Dawson and George Blanda, among others) who had been discarded by the NFL and young players from small colleges who weren't being given opportunities. It took the AFL six years and a lot of money, but eventually it became so established -- and profitable -- that the NFL had little choice but to merge with it. The result was the Super Bowl.
A few years into the AFL's experiment, Hunt's father, the legendary Texas oilman H.L. Hunt, was asked how long Lamar could afford to lose the estimated $1 million per year the AFL was costing him.
"About 100 years," H.L. replied, inferring that whatever the future held, the AFL simply wasn't going to disappear.
Like the AFL, the IRL offers a good product and has the financial backing to make it work. The IRL's situation in 1998 isn't the same as the AFL's in the 1960s, of course, and George isn't looking for a merger with CART.
George would like to have Andretti and Unser and the rest of the CART teams return to Indianapolis for the 500, but only on his terms. And the way the IRL is shaping up right now, it appears to be making sufficient progress for Tony George to stick to his guns.
Editors Note: The images displayed in this article (plus many more) can be viewed in The Racing ImageGalleries and the Visions of Speed Art Gallery.