---
NASCAR WCUP: Waltrip Will Drive for Mattei Team in Japan
30 October 1998
Michael Waltrip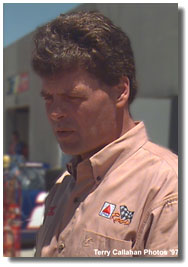 HARRISBURG, N.C. - With the NASCAR Winston Cup schedule growing each year, the "off-season" shrinks an equal amount. This year is no different, which places even more importance on every available day of 1999 preparation. With that in mind, Mattei Motorsports plans to get a jump on next year by putting Michael Waltrip behind the wheel of the No. 7 Philips Ford, sponsored by Lucent Technologies, during this year's showcase in Japan.
Waltrip recently signed a two-year deal with the team, which officially encompasses the next two Winston Cup seasons. But team owner Jim Mattei has set high standards for his operation, and believes in building toward his goals as soon as possible.
"Having Michael run for us in Japan gives our team an opportunity to work with him this year, and find out his likes and dislikes on the track in the framework of a race weekend," said Mattei, who is conservatively aiming for a top 15 finish in 1999. "Although this exhibition race is at the end of the 1998, it is the beginning of 1999 for us."
Waltrip, who is a 13-year NASCAR veteran, sees a big advantage in running a race with his new team prior to the season opener next year.
"When Jim [Mattei], Waddell [Wilson] and I talked about going to Japan together, we felt it was a really important thing to do, because it would jump-start us for 1999," said Waltrip. "It would give us a chance to work together and get to know each other a little bit, so that the first time we showed up in February in the garage area at Daytona, we wouldn't all look at each other and say, 'OK, here we go.' We would have the experience of that first time together behind us and have something to talk about all winter long as we go into testing."
Communication is one of the key elements Waltrip believes will help him and his new teammates be successful next season. However, he knows that much more can be gained by the trip to the Far East in November.
"Communication is certainly important, but no more so than chemistry and camaraderie. If you lack in any one area, you're probably not going to have any success. The people that work closely together on the team need to know what each other is going to say before they say it," said Waltrip. "The only way to develop that is through experience and time together, and we're just going to get a head start on those things by going to Japan."
This year's Winston Cup exhibition race, the 1998 NASCAR Thunder Special Motegi Coca-Cola 500, is slated for Nov. 22 at Twin Ring Motegi, although it will air live in the United States Nov. 21 at 10:30 p.m. (Eastern) on WTBS. This year's circuit is a more traditional oval, which is a change from the 1.4-mile Suzuka Circuitland road course NASCAR visited in 1996 and '97.
Waltrip welcomes the chance to experience a new part of the world and a new NASCAR venue, but felt well prepared for a return to Suzuka.
"I played that road course a hundred times on my video game at home, so I was kind of looking forward to seeing it again," said Waltrip. "But I'm really excited to go to a new part of Japan and to a new racetrack. To have the chance to experience all the new venues that have become a part of NASCAR racing in the '90's is exciting for me. We've gone to so many new places in the '90's, both in the United States and in Japan - it's new stuff - and I'm really proud to be part of it all."
Editors Note: The images displayed in this article (plus many more) can be viewed in The Racing ImageGalleries and the Visions of Speed Art Gallery.