---
The Callahan Report: CART's Marlboro 500 Promises Excitement
29 October 1998
FONTANA, CA:
When the stars of the Championship Auto Racing Teams (CART) circuit went to California Speedway last fall, the speeds were frightening. Mauricio Gugelmin lapped the 2-mile super-speedway at just over 240 mph. CART returns to Fontana to complete the 1998 Fed-Ex Championship season this weekend. The speeds will be much slower but the race will be more exciting.
At the conclusion of the 1997 Marlboro 500, CART officials put their heads together in an effort to slow the cars. The result was a bulky rear wing called the Handford Device. The wing was designed by PacWest Racing engineer Mark Handford. The wing debuted at the U.S. 500 in July at Brooklyn, Michigan. The cars were slower, just as predicted.
The device had one of the most exciting side effects in recent memory. While increasing the drag on the aerodynamic Indy style cars slowed the open-wheel racers, the wing also caused the cars to punch a bigger "hole" in the air. During racing conditions, this "hole" sucked cars in as they approached the car in front of them. The drivers were able to use a NASCAR style "draft" to pass each other on the track. At the end of the U.S. 500, there had been a record setting 62 lead changes.
``I've never been in anything like that before, not for that long,'' said Greg Moore, the winner of the U.S. 500. ``It seemed like we were running side-by-side almost all day.''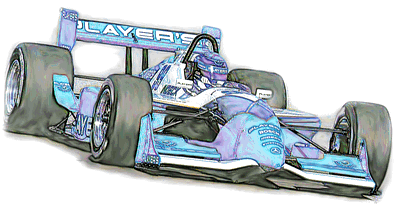 Greg Moore
The rules makers have battled over the years to decrease the speed of the championship cars. They have addressed both engine and chassis in an effort to make the cars slower.
``You can't slow the cars down too much on the big tracks because no matter what device you use on them or what rule you change, the engineers, engine-builders and chassis people find some way to get it back,'' said Michael Andretti, who has been in victory lane twice on the super- speedways.
The excitement of the U.S. 500 was overshadowed by the death of three spectators. A tire from the crashed car of Adrian Fernandez flew into the fourth turn grandstand crowd.
Even though the speeds have decreased, the Marlboro 500 at California Speedway this weekend will be a blur as speeds are expected to be in the 220 mph range. With the added drafting provided by the Handford Device, the Marlboro 500 could be the most exciting race in the history of CART.
Editors Note: The images displayed in this article (plus many more) can be viewed in The Racing ImageGalleries and the Visions of Speed Art Gallery.