---
NASCAR-WCUP: Daytona Just Like Year For Park
21 October 1998
Steve Park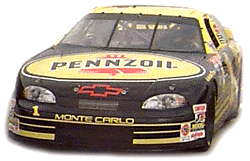 Saturday Night's first running of a night race at Daytona International Speedway turned out to be a microcosm of the 1998 season for Pennzoil Monte Carlo driver Steve Park and his Dale Earnhardt Inc. teammates. Just as his rookie year has developed, Park started with promise but events out of his control prematurely ended his race in frustration.
Park moved from his 18th starting spot on the grid to the lead pack as he drafted with eventual race winner Jeff Gordon and Dale Jarrett. Park's bright yellow car looked to be one of the strongest on the track by moving low through the high-banked turns and catching cars from behind.
"This car is doing it," reported Park over the team radio.
Park moved in the top 10 several times as the rookie driver remained patient hoping to hang with the leaders until the end of the 160-lap race. But, just as quickly as Park raced to the front he began sliding back.
"This car is bad loose," he told crew chief Philippe Lopez. "It's almost as if something is wrong. It even wanted to spin out under the caution."
The loose condition provided a frightening moment as the Pennzoil Monte Carlo slid sideways coming off turn two at almost 200 mph. Park skillfully righted the car narrowly averting disaster sure to have been compounded by a pack of cars right off his bumper.
"I said to myself that this could be trouble, but luckily it was no more than just a scary moment," Park said.
The DEI crew spent most of the race working to correct the loose condition. Lopez suspected that a broken shock or some other suspension failure could be the culprit. Park fell down a lap and appeared to be set to ride in the draft and learn lessons from more experienced drivers.
But on lap 140, a multi-car accident blocked the backstretch and left the rookie driver with nowhere to go. The Pennzoil Monte Carlo slammed into Kenny Irwin's car then careened into the wall severely damaging the team's best superspeedway car. Park was uninjured, but frustrated with a 33rd-place finish.
"We really can't seem to get a break," he said. "That wreck happened in front of us and there was just no way to avoid it. This is frustrating, but we ran well at the beginning of the race before something happened to the car. If we can run like that then we will be OK."
Park and his teammates return to action Sunday in Phoenix.
Editors Note: The images displayed in this article (plus many more) can be viewed in The Racing ImageGalleries and the Visions of Speed Art Gallery.