---
NASCAR-WCUP: Jeff Gordon Wins Historical Pepsi 400
19 October 1998
Jeff Gordon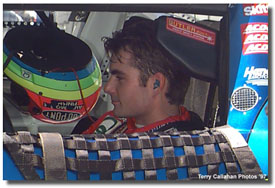 DAYTONA BEACH, Fla. -- The inaugural nighttime running of the Pepsi 400 is history and Jeff Gordon has written his name into the record books. By capturing Saturday's event, Gordon won the first nighttime running of a NASCAR event in the 40-year history of the famed Daytona International Speedway.
In a typical thrilling Daytona finish, Gordon held off polesitter Bobby Labonte and Mike Skinner to win by a mere .176 seconds.
Gordon, who finished second in last week's Winston 500, won his 40th career NASCAR Winston Cup Series race. It was also his second Pepsi 400 victory in the last four years, he also won the 1995 "Mid-Summer Classic." The race came down to a three-lap shootout among a tight draft of cars after a short rain delay brought out the caution with five laps remaining. Gordon, who grabbed the lead from Kenny Irwin on lap 123 of the 160-lap event, was able thrawt many late lap challenges to win his 11th race of the 1998 season.
"I can't believe it, we won a race in October," said Gordon, referring to the team's lack of success in the month of October in recent years. "This was an awesome car, this is probably the best two back-to-back restrictor-plate cars we've ever had as a team.
"We feel good about the points race, but there's no such thing as a lock. Mark (Martin) and his are tough, we're going to have to race hard all the way to the finish. But, I'm just happy we won tonight's race, we've got a lot of momentum right now and we're excited about the possibility of winning that third championship."
Jeff Gordon also stretched his point lead to over Mark Martin after the driver of the No. 6 Valvoline Ford came home 16th in the final rundown. Gordon earned $184,325 in race earnings for the victory.
Editors Note: The images displayed in this article (plus many more) can be viewed in The Racing ImageGalleries and the Visions of Speed Art Gallery.