---
Michael Waltrip to drive for Mattei Motorsports in 1999
13 October 1998
Michael Waltrip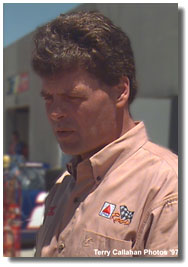 HARRISBURG, N.C. - Jim Mattei, owner of Mattei Motorsports, announced Monday night that his team will make a driver change for the 1999 season, signing Michael Waltrip to a two year contract with options. Waltrip, a 13-year NASCAR Winston Cup veteran, fills the seat currently occupied by Geoff Bodine.
Mattei, who became a partner in the team in August 1997, and recently purchased the remaining interest in the team from Bodine, feels Waltrip's discipline and consistency as a driver will help the team continue its progress through the Winston Cup ranks.
"Michael has a lot of experience and a great passion for the sport, and I consider him to be at the beginning of his career," said Mattei. "I believe with the kind of equipment he'll have with our race team, he'll be stepping up to a new level in Winston Cup competition."
Waltrip, who currently sits 15th in the Winston Cup point standings, became available late this summer when he and the Wood Brothers Race Team decided to end their three-year relationship following this season. In 92 races thus far with the team, Waltrip has scored one top five and 22 top 10's, and also captured a win in The Winston at Charlotte Motor Speedway in 1996.
"Jim Mattei is obviously very committed to being successful in Winston Cup racing, and that type of commitment is what I need," said Waltrip. "He recognizes the type of effort it takes to field a consistently competitive team. I'm really looking forward to 1999 and beyond."
Mattei's Philips Racing Team recently began reaping the rewards of its effort this season, posting four top 15 finishes in the last six races, including a pair of ninth place finishes at Darlington and Charlotte. In the past nine races, the team has climbed seven spots in the point standings to 27th, and is now just 40 points away from a top 25 ranking.
"Conservatively, I believe we can be a top 15 team next year in Winston Cup, and with the progress we've made the last part of this season, we should be a top 10 team," said Mattei. "We are definitely committing the resources and the right people necessary to achieve that goal with Michael."
In addition to his Winston Cup career, Waltrip remains active as a Busch Series owner and driver. In 11 seasons, Waltrip has claimed a total of seven Busch wins and has won more than $800,000.
Waltrip will finish the season with the Wood Brothers, while Bodine will run the remaining four races in the No. 7 Philips Ford.
"We have enjoyed our relationship with Geoff," said Mattei, "and we look forward to finishing the 1998 season with several strong performances."