---
New Motorcycle Review: Suzuki GSF 1200 Bandit
13 October 1998
Bandit Territory - Suzuki GSF 1200 Bandit
By Nicholas Frankl
European Correspondent
Remember smokey and the bandit? What a great movie, Bert Reynolds and the "snowman" blazing through roadblocks, outwitting dopey sheriffs and having loads of fun in the mean time. Well think of the movie with a smile and you'll love the 1200 Suzuki variety. Black, bold and menacing this is a machine that demands attention and respect. A combination of the veritable in-line 4 cylinder dohc 98 bhp block matched with a superb chassis and genuinely comfortable riding position (so long as you shave the saddle an extra 2ins I'm told), the 1200 Bandit is an astonishingly capable bike to ride and you don't even need to be bootlegging to enjoy it!
The most powerful in the range, Bandit, just loves to show off- rather too much in fact- as keeping the front end on the ground is tough even in second and very tough in 1st. Once away (on either or both of the wheels) Bandit, is a delight. I can't remember an easier bike to ride since my old Raleigh, circa 1975. The controls are light, responsive and direct, the bike giving excellent feedback through the front and bags of grip at both ends. The test model I used for a week seemed to have a slight stalling hiccup- whereby every time I arrived at a stop- the engine cut. Why? I never did find out - and annoying as it was, I put it down to a glitch rather than a major failure.
Two -up the, Bandit is stable and relaxed although unless you only intend to use it in-town I would suggest the small screen option (for which they charge a further £300) as single headlamps have never made terribly good wind deflectors.
I am assured by my friends in "The Know" that if you want to taken seriously as a stunt rider these days you have to perform on a Bandit- and that's before they're tweeked the thing. Whether a stunt rider or just an ordinary biker, the Bandit delivers. Out on the open road there are few bikes that will embarrass you, even through the twisty stuff. Sure, sports bikes are quicker but frankly when you're talking those kind of speeds it all becomes rather academic.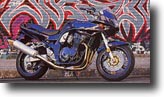 All in all this is great bike, not toooo big, but not tooo tiny - unlike the Honda Hornet which just doesn't gel with me. For £6,500 pounds you could do a lot worse, and thinking about it not a lot better- think Monster 900S and you'll be talking different money and a whole lot else.
SUZUKI GSF 1200 BANDIT
PRICE £6,500
BHP 98
WEIGHT 211kg