---
New Motorcycle Review: Yamaha 1300 Royal Star
12 October 1998
BATTLE ROYAL:
Yamaha 1300 Royal Star
Nicholas Frankl
European Correspondent
What to do with all these cruisers? So many bikes and so few miles to crunch. The Royal Star is certainly not a bike to mess with. Equipped with one of the finest and smoothest V-4 engines, tuned to deliver massive torque from low revs through one of the sweetest gearboxes you'll ever have the pleasure of using, this basically is the bike Harley should have been building during the last 95 years!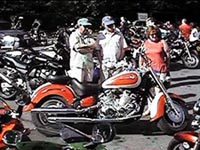 Not only does the XVZ1300A (whatever the hell all that crap means) look more menacingly brutish and bad ass than a Fat Boy, it just happens to run circles around any other custom - par my beloved Honda Valkerie - in performance terms. The numbers barely tell the whole story. 73bhp @ 4750rpm and 83ft-lb of torque. In real terms against my friend's fired up CBR600, there was no difference till we reached over 70mph, not bad for a bike that weighs in, in the red corner, at 305kg.
Size is important, but not everything, and in fact, in town, it is best not to have anything too wide. But personally I found the weaving and diving not a problem through London (as poor a cruising town as any I would suggest) despite the bike being unable to fit into the smallest of gaps - which are often the ones where a motorcyclist shouldn't be in the first place. Aided by a relaxed, low seating position and pullback bars, the rider is able to enjoy the good ground clearance that surprised quite a number of my colleagues on the road. Although the torque drive gets in the way, the bike can be enticed into some quite fearsome maneuvers, belying it's sheer bulk and custom heritage. The steering is a little heavy, and very stable! at low speed but lightens up substantially once underway. When it comes time to stop again, the brakes are excellent, even with two-up I never had cause to panic under hard braking. Even the exhaust note is right (though not loud enough for me). Designed clearly to intimidate a Harley, (is that possible?) the four shotguns running down the length of the bike sound awesome. Yamaha also supply one of the largest ranges of factory accessories I have ever seen and once you start on that road the results can be spectacular - if not a little dear.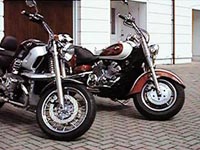 Is this bike an irrelevance in Europe? I don't think so. Only the hard core UK bikers elect in such massive numbers for sports bike - which Yamaha happen to cater nicely too as well - as for the rest of the planet cruisers are seen for what they are- comfortable personality extensions with lots of GO and loads of SHOW. Certainly for ten days in London, I had more admiring glances than I can ever recall getting on a sports machine-and enough favorable comments to bolster ones ego for a lifetime, do away with the shrink and make the £11,259 asking price look like a bargain!

YAMAHA ROYAL STAR

Price   £11,259 (basic but unlike HD you don't have to spend another 5k
just to make it go and stop)
Engine          1294cc dohc V-four
Fuel Cap        18L
Weight          305kg
Wheelbase       1695mm!