---
New Motorcycle Review: Suzuki GSX-R 750
12 October 1998
by Nicholas Frankl
Many things in life these day carry a government warning, such as cigarettes, various legal drugs and even some music CDís. However this never really stops us from buying and using them does it, not that I smoke. However my point is that in our modern societies attitudes are rapidly changing and elements and warnings we simply overlooked in the past now make us stop and think. But ask yourself, are those warnings there for a reason, to really protect us, or, are they there because someone somewhere in the world has recently sued a company because, for example, he over looked the government warning on his Camels for 25 years and now has lung cancer. Well surely, to any sane person, anyone who considers inhaling tar, nicotine and other nasty hot elements directly into his lungs is going to cause himself some eventual damage. Is that the companyís fault? A little common sense is needed these day, unfortunately it seems to be in short supply in various "free" western countries.
It is this one "free" western country I would like to concentrate on right now if I may. We all know which country I talking about, and if youíre not quite sure Iíll give you another hint, stars and stripes ring a bell. Surely any country which has a law suite every two seconds and a citizens addicted to Viagra, that would be a good alibi Bill, is never going to permit a rider to enjoy the new Suzuki GSX-R 750. I mean, you canít even cross the road wherever you want, so how on earth are they going to permit a two wheeled vehicle which can travel at speeds in excess of 160m/ph? Well they wonít, not without a government health warning anyhow.
It seems strange to me that I can climb onto a motorcycle which carries a little red label reminding me to be careful on slippery wet roads, ride within my limits and always wear a helmet. Why on earth would I not? I canít believe that there are nutters out there who would ride along rain drenched cobbled streets at 140m/ph without a helmet, trying to pop a wheely. Well it probably would be possible on the new GSX-R and the following will explain to you why I am currently saving every penny to buy one as soon as possible.
At 9am on the 10th July I arrived at Suzuki head office, Crawley, almost dying in anticipation, I was about to pick up and be given Suzukiís new GSX-R 750 for over two weeks. I walked into the main foyer and there before me was the exact bike I was about to ride off on. I promise you it was love at first sight. Had Leonardo Da Vinci himself drawn a motorcycle it would have looked just like this, the GSX-Rís looks are stunning to say the least. Available in three colour schemes, blue/white, orange/black and black/grey, I didnít for a second hope that I wouldnít get a certain scheme, although I personally would buy the blue/white. I wasnít kept waiting long, for suddenly from around the corner she came. I was shown a few minor details, such as where the very handy storage compartment was, which can easily hold waterproofs and a disk-lock, and then, with a pat on the back, I was handed the keys.
I turned the ignition and heard the digital fuel injection start up, one of the many changes to the new GSX-R. Gone are the old 39mm carburettors, replaced by 46mm, large-bore, fuel injection throttle bodies. This new fuel injection system constantly monitors the engine, calculating the ideal air and fuel mixture by using engine rpm and air intake pressure. In the unlikely event of an injection system problem the computer will perform a self-diagnostic, which is subsequently displayed on the water temperature tachometer face. Even the digital-direct ignition has been improved, generator output has been increased by 50% and the system now uses individual coils into the plug caps to replace dual coils and long high-tension leads. This system weights half a kilo less than its predecessor and produces stronger sparks. The engine fired into life, not with the note I expected to hear, but a subtle gentle hum, like a wild mythological beast waking after a long hibernation, looking forward to its first hunt.
I cautiously rode out of Crawley on to a long A-road towards the M23. With a gentle yank on the throttle the schizophrenic GSX-R jumped, burst and released its 130 horse-power. Gone was that gentle hum, replaced by the screaming of a bike capable of so much more, asking you to push it harder and further. The engine lurched and within a matter of seconds I was flying along well within illegal territory. I was instantly impressed by Suzukiís 749cc liquid-cooled, 4-stroke, 4-cylinder inline engine which as I kept accelerating through the gears impressed me further. The GSX-Rís transmission and box are fantastic, 6-speed, constant mesh, I never once found neutral when I wanted second. Running through the gears the bike feels extremely smooth as if refined to near perfection. Transmission ratios, on the 1998 GSX-R are now closer together for better acceleration and trust me thereís enough acceleration there for anyone. My thought instantly ran to a friend of mine who, a couple of months earlier whilst in Metropolis, pointed at a GSX-R and said that that was the next bike he would buy. At the time I couldnít understand why, but now Jeremy I understand, and I guess the race is on, which one of us will have one first.
My hour long ride back into central London was not the most thrilling and empty location for a test, so, I decided I would stay on the M23 all the way, as to get a feel for the bike on the motorway and through town. I was not ready to test the bike fully just yet, that would have to wait for the weekend. However on my ride I did notice that on the motorway the bike felt extremely aerodynamic and stable. This could be due to the new improved windscreen, which is taller in the middle, providing better wind protection while still shielding the riderís upper body. My wrists felt a little of my weight and started to go numb but not uncomfortably. I noted a few weekends later after having ridden the bike for 400 miles in one day that that it was not ideally suited for an even longer trip, my rear was also starting to feel a little sore. But then again itís not built for touring, if itís touring you want go buy yourself a VFR. The GSX-R is a road legal, reasonably priced race bike, perfect but not comfortable.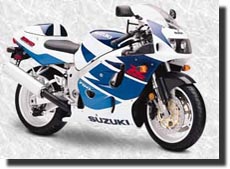 The GSX-R is a bike originally introduced to racing in 1996. In Australia, the GSX-R750 won the Superbike Championship. In Europe, the GSX-6750ís prestigious 24-hour race wins at LeMans 24-Hour and Spa-Francorchamps 24-Hour led to the 1997 Endurance World Championship. In the US the GSX-R750s won every 750cc Supersport National race in 1996 and were so dominant that competing manufactures withdrew their official teams in dismay after three races. In Germany, the GSX-R750 won every round of the 1996 750cc Championship. In France, the GSX-R750 won every round of the 1996 Coupe de France. The GSX-R750 proves to be both competitive and successful throughout the 1998 World Superbike Championship.
Back to little old me though and reality, I was not on a race track and if the truth is to be known, would be left standing by experienced rider on a track. However I did have the GSX-R for the next 16 days and I was going to give it the best test I knew how, thatís as long as the weather clears. Luckily for me the next two weeks seems to have produced the best weather weíve seen since February. Thatís after the first weekend I had the bike and it rained all weekend, but on Sunday was the British Grand Prix, and there was no way I was going to miss it. So off I rode in the pouring rain up to Silverstone, being blow across lanes, thankfully there was no traffic at all, where was everybody? Bombing along the motorway, with Jeremy clinging on for his life I suddenly spotted a police bike behind me. Well here come some more points I guessed, but to my surprise the bike overtook me, at at least 110m/ph and was subsequently followed by two more. Nutters, visibility was down to about 200 yards and the police, on their Honda Pan-Europeans were really canning it. I decided I would follow them for a little while, but they were simply too fast for me in those conditions.
As we approached Silverstone the weather cleared momentarily, and the roads were dry. Time to see what this baby will do I though to myself, and without any warning I dropped the bike down two gears and turned back the throttle. At about 100m/ph the front tire decided it wanted to kiss the tarmac goodbye for a brief second or two. Little did I know Jeremy had almost fallen off the back and was clinging on for dear life. I was loving it and when we did finally arrive at the track Jeremy had a huge smile on his face. Respect was in order and we had a few good laughs even a few police came up and admired the bike. We were drenched through, so much for water-proofs being water proof. After ďbrieflyĒ waiting at the main gate for our passes we were allowed to ride into the paddock. Riding around the paddock area, without a helmet, for the next half an hour I bumped into various friends and Formula 1 celebrities. Jeanne Todd, chief designer of Ferrari, took a good look a the GSX-R. Could have been because I was parked in front of Michael Suhmacherís little moped, but I got the nod I was looking for. Jeremy and I stayed for the start of the race, but then spotted some very dark clouds approaching and decided that it was time to leave. Jeremy now had the pleasure of riding back on a Triumph Daytona 595, which we had come to collect. This would be an interesting comparison , however the GSX-R proved to be far superior in a straight line. We had little time for much more as the dark skies were fast approaching.
Back in London for a whole week I had to satisfy myself with riding the bike around the city, constantly paranoid that thieves were after my temporary new toy. My girlfriend was not very impressed by the pillion seat or the acceleration. Donít get me wrong, she didnít think the GSX-R was slow, she just didnít quite enjoy almost flying off when I zoomed around town. I tried explaining what the strap was for, but she preferred hanging onto my belt or jacket. Which leads me to believe that the GSX-R is a one person bike. Only in cases of extreme emergency should a passenger be taken for a ride. The Suzuki designers obviously think the same as the GSX-R comes with a very neat pillion seat replacement, which adds to the aerodynamics of the bike. The windscreen sends the airflow smoothly over the riderís helmet, over the rider over the pillion seat hump and creating a perfectly streamlined riding position.
All in all it seems that the designers thought of everything the result is a state-of-the-art engine and chassis design with innovative features. Staggered transmission shafts made the engine shorter front and rear, allowing the new 1998 GSX-R to have a shorter wheelbase and lighter frame. A bolt-on end counter weight allowed cutting a smaller diameter between the crankshaft and the clutch. The GSX-Rís balance feels superbly stable at all speeds and conditions. It was during the following weekend that the GSX-R was put to the test.
A few junctions up the M11 is a little town called Finchingfield, donít ask me how to get there because I always get lost. But, it was here that we pitted the GSX-R against Ducatiís 748 and Hondaís CBR 600, not that the CBR is really in the same class. Looks wise the Ducati steals the show but the GSX-R isnít far behind. There are far more 748ís roaming around the UK than GSX-Rís, and it seems every one and his uncle wants a 748 these days. The CBR is a classic, I call it the BMW of the bike world, no offence to BMW. The CBR has proved itself over the years as a reliable sports-tourer which packs a hidden punch under itís conservative chassis. It is the most successful motorcycle of all time and a favourite of many, but like anything thatís popular there are far too many of them around.
In a straight line the GSX-R destroys both the 748 and the CBR, second gear at 13,000 revs on the GSX-R takes you way beyond anything remotely legal. The 748 with itís 80b/hp hasnít got a chance and trails way behind. On country lanes, depending on how big you balls are and how well you know the roads things rapidly even up. In the hands of a racer Iím sure that the GSX-R would be hard to beat, but in our little test things were declared even. Although the CBR and 748 did arrive at our ultimate destination a few seconds earlier. However it is on these country lanes that one can fully appreciate the GSX-R. The GSX-Rís rear shock absorber incorporates a new temperature compensation system that uses a needle valve to adjust the cross-sectional area of the rebound damping passageway. This is to stop the absorberís damping to decrease as oil temperature increases and becomes thinner and flows more easily through the damping passageways. The needle valve is controlled by an aluminium-alloy pushrod with an engineered expansion rate. As the pushrod heats up and expands, it pushes the needle valve into the damping passageway, compensating for the thinning oil. The GSX-R comes standard with a steering damper. The front tire is a gripy 120/70 ZR17 with a 190/50 ZR 17 on the rear promoting and adding to the near perfect handling both whilst entering and exiting a corner.
With a wheelbase of 1,395mm just 130mm of the ground itís easy to throw the GSX-R into corners at high speeds, knowing that with the correct handling the GSX-R will exit begging you to get straight onto the power again. Bombing through country lanes itís easy to get carried away, especially on such a terrific machine, I hadnít had this much fun on a race bike for a long time. The GSX-R is a confidence builder and itís easy to see how many could get carried away easily. One more thing that Suzuki got just right are the breaks. Front brakes are six-piston calipers on 320mm dual disks which stop the GSX-R dead in itís tracks. The rear 2-piston caliper, 220mm disks are obviously not as good and could be upgraded if necessary.
Other changes made on the 1998 GSX-R is the 525 final drive chain, lighter than the 530 chain it has replaced saving 320 grams, despite using stronger, 2.4mm thick outer plates, and the aluminium-alloy frameís swingarm pivot section. Now made with more precise permanent metal molds and a low-pressure casting process instead of sand casting, it is 300 grams lighter.
The new GSX-R750 has been made faster and quicker for 1998, not only in a straight line but also around corners, be they on a race track or through country lanes. It is the overall best race (road) bike I have tested to date. Stylish modern looks, an extremely powerful engine and excellent handling and brakes. If I had 8,000 pounds sterling, I would buy one tomorrow. un
More power, better power-to-weight ratio and better power delivery resulting in a bike which possibly, unlike many things in life, does deserve a government warning.
I want one!
For more information and you local Suzuki dealer contact Suzuki at: www.suzuki.co.uk