---
NASCAR-WCUP: Earnhardt Turns Quick Lap as Pepsi 400 Testing Closes
8 October 1998
Dale Earnhardt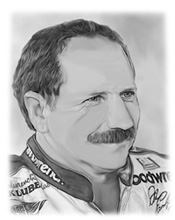 1998 Daytona 500 champion Dale Earnhardt, driving his familiar No. 3 Goodwrench Service Plus Chevrolet, recorded the quickest lap Tuesday at Daytona International Speedway as a two-day test session in preparation for the Oct. 17 Pepsi 400 came to a close. Earnhardt's lap of 189.514 mph bettered laps clocked by Ernie Irvan (189.268 mph) and Geoff Bodine (188.838 mph). Irvan recorded the quick lap of the session on Monday with a time of 47.44 sec., for an average speed of 189.713 mph.
The July 4 Pepsi 400, and related activities, were postponed to Oct. 15-17 at the "World Center of Racing" due to wildfires in the Volusia County area. The much-anticipated 40th Pepsi 400 on Oct. 17, will be preceded on Oct. 15-16 with practice and qualifying. Although all tickets for the Pepsi 400 race have been sold, tickets for Pepsi 400 Pole Night are still available by calling the Speedway ticket office at 904-253-7223.
Editors Note: The images displayed in this article (plus many more) can be viewed in The Racing ImageGalleries and the Visions of Speed Art Gallery.