---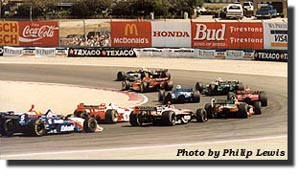 A Day At The CART Races
2 October 1998
by Andrew Frankl
European Bureau Chief
It was at 4:30 a.m. when the alarm clock went off the other day. Slightly ahead of my normal waking time...still, there was a good reason for it. Live transmission of the Italian formula One Grand Prix was starting in 25 minutes time! Luckily we were not the only Grand Prix fanatics in California. Just off Highway 101 near Sausalito is the San Francisco headquarters of Ferrari. A beautiful building full of 355s, 550s and Jean Alesi's racer from a few years ago as well as jackets, T-shirts and various other goodies. The door was open, the coffee was on, and with the satellite doing what it was supposed to do, we were ready for action. With Schumacher on pole and 100 thousand tifosi -the local fanatics- going crazy thousands of miles away at Monza this -short of being there- was most definitely THE place to be on Sunday 13th September.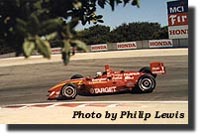 As you know by now, we were not disappointed. The mighty McLaren/Mercedes machine was having an off day and with the two Ferraris doing a 1-2 for the first time since 1988, Ferraristi the World over were over the Moon. Emerging into the early morning sunshine, my lensman and I were ready to hit Highway 101 South, destination Laguna Seca. I must make a confession -I have never, ever been to a CART race in my life until now. Over the years -30 plus actually- I got as far as Suzuka, Melbourne, Watkins Glen, Silverstone, Le Mans, Paul Ricard, Hockenheim, Monza, Imola, just about everywhere with the exception of the South American races. I have seen some great races with Jochen Rindt at Monaco (1970), James Hunt at the Glen (1976), Ronnie Peterson at Silverstone, Prost and Senna all over Europe, the winning Fords at Le Mans, Bruce and Denny in those beautiful yellow Can-Am cars, and yet-no CART.
Time to make amends I thought. Initially things did not look too good. I've just arrived back from Europe; did not apply for my credentials in time and as I was hoping to do some work the thought of sitting in the stands did not really appeal. The lady in the Press Office could not have been more helpful. No, she did not have time to send us the relevant bits of papers but with a bit of luck we should be able to pick these up at the gate. Needless to say we went to the wrong gate and ended up in P8 -a dusty parking lot about a mile from the track. At any other circuit anywhere else in the World, it would have been walkies! Not at Laguna. Along came a delightful contraption with seats either side pulled by a truck and within a couple of minutes we were a few yards from the track. If only other circuits would copy this!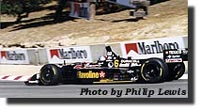 We made our way to the Media Centre where they told us that our passes were indeed ready, at a gate about 2 miles away. With our car in P8 and with the temperature in the high 80s we were not really looking forward to the long track. At this point the lady came to our rescue yet again. Instead of quite reasonably sending us on our way to get the passes that were late applying for in the first place, she made us new passes two hours before the start of the race! Never, ever in over 30 years of motor racing have I come across anybody this helpful. I could think of a number of press officers the world over who could take a lesson from this lady.
Whilst CART was new to me and to ace snapper Phil Lewis, many of the drivers were old friends from F1. Alex Zanardi I knew when he was trying to make an out of date Lotus go faster, Mark Blundell from his many years of Grand Prix racing, JJ Lehto for the same reason, Christian Fittipaldi whose Uncle Emerson and I go back 25 years, and Mauricio Gugelmin known to one and all in racing circles as Morris. Whilst this has absolutely nothing to do with CART racing, I must share my favorite story with you. One day Ayrton Senna and Morris were dashing back to Surrey where they lived at the time from testing at Silverstone. Don't kid yourself about racing drivers being angels on the road. Ayrton was driving this Porsche at 120 miles per hour. With a speed limit in England of 70, it was no surprise that he was stopped by the men in blue. The policeman, once he got his breath back after the high-speed chase, turned to Ayrton -whom he did not recognize- said: "Who do you think you are, Nigel Mansell?!" According to Morris, Senna never got over the insult!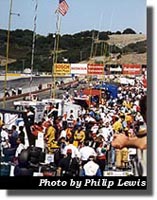 After the very highly regulated races in Formula One, it was hard to believe what I was seeing. There were parents in the paddock pushing wheelchairs, drivers standing around having chats with all and sundry, all in all it was like a jamboree, a carnival with lots of happy people milling around. Realistically speaking I must agree with Bernie Ecclestone that something like this would not be practicable in Europe. Having seen blind drunk Schumacher supporters lurching around at 8 o'clock in the morning, it would be impossible to give them free reign within yards of their hero and the multi-million dollar Ferraris. It would be nice to have more contact between drivers and their admirers but lacking the sort of discipline American fans display, Bernie is probably right in what he is doing; although, having muzzled Alsatians in the Monaco paddock was definitely an overkill.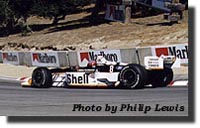 The race itself was very exciting indeed with Brian Herta winning his first ever CART race just yards ahead Zanardi. It was also very nice to see a Ford-Cosworth win over Chez Stewart. Ford engines are having a very hard time trying to keep up with the Mercedes and Mechachrome engines. As one of the Grand Prix Ford engines blew up in the biggest possible way in the middle of the Italian Grand Prix, it was nice to see a "relative" do so well just a few hours later! Now that Ford has finally bought Cosworth, I am sure we can expect massive improvements all around. With Clay Ford at the helm and with 22 billion dollars in the bank, I am sure we won't have to wait too long.
There was another lovely surprise waiting for me at my first CART adventure. I ran into head honcho, Andrew Craig, who is a very old chum indeed. We go back to the days when he was at a small but successful advertising agency in London that went by the name of Connell, May and Steavenson. From there he moved to ISL, one of the World's leading sport marketing companies closely involved with the Olympics. How he got from Lausanne, Switzerland to downtown Troy I don't know but he is certainly doing a fine job judging by the crowds and the standard of racing. On the PR side, it was a particularly nice touch to have FEDEX, the title sponsors, deliver the trophies in their familiar trucks! These days it is obligatory for motor racing fans the World over to watch the Grand Prix in the afternoon and the CART races Sunday evening. Some, such as the dramas at Long Beach and Vancouver, are highly memorable.
After the prize giving, all that remained was the long track back to P8 or so we thought. Having collected the result sheets from the Media Centre, we ran into someone who was working at the circuit. Even though he was heading in another direction, he offered to run us up to the parking. That really was the icing on the cake -good race, great crowd, good weather and probably the friendliest, most helpful people I have ever had the pleasure of meeting at a racetrack. As they say in Atlanta -thank y'all, we'll be back! Soon.