---
NASCAR-WCUP: Earnhardt's Napkin Holds the Key to Park's Talladega
6 October 1998
DEI Teams Plans To Use Separate Cars For Talladega and Daytona Plate Races
Dale Earnhardt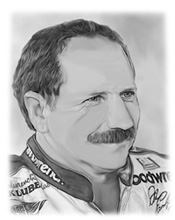 If #1 Pennzoil Monte Carlo driver Steve Park performs well this weekend at Talladega he'll probably credit a small white napkin for his success. It was on that napkin in 1997 that team owner Dale Earnhardt drew a diagram of Talladega for his new Busch driver. The diagram must have been accurate as Park, in only his second restrictor plate race, staged a stirring duel in the final laps with Mark Martin nearly beating the veteran. Park returns to Talladega this weekend for his second restrictor plate race in a NASCAR Winston Cup car. Although there are no napkins this week, Park said he and Earnhardt have had numerous discussions about driving the 2.66-mile highbanks of Talladega and the 2.5-mile Daytona International Speedway where the series visits after Talladega. This marks the first time drivers and crews have faced consecutive restrictor plate races. Park's Dale Earnhardt Inc. team has a unique plan for the two races.
How Do You Counter A Lack Of Experience In Resctrictor Plate Races?
"That's easy Dale Earnhardt. He is a master at superspeedways. He won Daytona this year. We talk all the time about drafting and stuff. He's really shortened my learning curve by just sitting down and talking to me. If I keep my mouth shut, I can really learn a lot from him.
"At the beginning of last year when I started out in the Busch Series, Dale drew me a diagram of Talladega on a napkin. The way the car setups are in qualifying, the cars have a tendency to bottom out and when that happens they scrub speed off. You don't want that to happen so he used the napkin to show me where some of the bumps and dips in the racetrack are. He knows exactly where each bump is. He also showed me the optimum line to get as much speed as you can.
"Everyone remembers that great run we had in the Busch Series when we battled Mark Martin at the end of the race. Dale was chewing my ear off on the radio. People ask me all the time if that was distracting. It is and it isn't. He was just trying to relay his experience to me and show me a way to get a good run or draft on Mark and get around him. With about five laps to go he got quiet. I guess we tried everything he knew and everything I knew. In those last laps I just drove hard. I think that is the kind of experience you need because if we are ever in the situation again I'll be better prepared."
Preparation For Consecutive Restrictor Plate Races:
"The key for a lot of teams in the next two weeks is not to wreck. The worst thing that can happen is that you wreck your best car at Talladega and then have to use a back up at Daytona. If there is a big wreck at Talladega then a lot of people are going to be hurting for Daytona. We have kind of an interesting deal on our team. We know we are going to run two different cars. We brought the back-up car from the Talladega test home then sent it to Ronnie Hopkins who cut the car apart. We felt we could make improvements in the way the body was hung and improve our aerodynamic package. We think that car is as good as the primary car so we are going to run it in Daytona. I don't know too many teams who know they are going to run two different cars no matter what.
"We know that we are a first-year team and a superspeedway program takes years to develop. Between all the wind tunnel testing, the on track testing and the increase we hope to get in horsepower, we should be a heck of a lot better for these superspeedway races than we were for me at Daytona and Darrell (Waltrip) at Talladega."
Race Stats: Sunday, October 11, 1998 in Talladega, AL for the Winston 500
This is a Winston No-Bull 5 Event
Track/Race Length: 2.66 mile, 188 laps, 500.08 miles
1997 Race Winner: Terry Labonte
TV: 1:15pm/et on ESPN
First Round Qualifying - 2 laps Friday, October 9, 1998 at 4:00pm/et, TV-ESPN2, MRN via the radio and internet
Record Pole Speed: Bill Elliott, 209.005mph, July 1986
Last Year's Pole Sitter: Ernie Irvan 193.271 mph
Second-Round Qualifying: 2 laps, Saturday, October 10th at 11:30am/et
Happy Hour Practice, Saturday, October 10th after the ARCA race, TV-ESPN2 time

Editors Note: The images displayed in this article (plus many more) can be viewed in The Racing ImageGalleries and the Visions of Speed Art Gallery..