---
NASCAR-WCUP: Park Still Negotiating Rookie Learning Curve
30 September 1998
Steve Park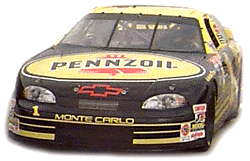 #1 Pennzoil Monte Carlo driver Steve Park never doubted Winston Cup racing is the most competitive form of racing in the world. But, after a year on the circuit, he's more convinced than ever. Since his Aug. 1 return from a broken leg suffered in March at Atlanta, Park has posted 11th-place finishes at Dover and Michigan and ran in the top-10 at Indianapolis and Martinsville before mechanical or accidents ruined those runs.
Rookie of the Year Chances:
"It's nice competing week in and week out again. It sure beats sitting at home. As for the rookie of the year race, getting hurt in Atlanta really damaged our chances. But we are still trying to beat the rookies as well as a lot of the veterans each weekend."
How Has Return Been:
"I'm still at the beginning of the learning curve. I've been around all year, but people don't realize this is only my 12th race this year. You aren't going to learn about Winston Cup racing and learn all these tracks in just 12 races. I still feel I'm a little behind on the learning curve. I think the reason is simply the injury. But, if I can continue to learn at a fast right like I have the last couple of weeks then we are going to be OK. We are going to take the experience gained in the last quarter of this year and use it to come out of the gate fast next year."
What's Been The Biggest Challenge of Your First Winston Cup Season?
"The competition and getting hurt. On each weekend there are 40 to 50 really good well-funded teams with drivers who have won championships somewhere and a lot of mechanics and engineers working back at the shop. It's just ultra-competitive."
What's Been Easiest Obstacle To Overcome In Your Rookie Year:
"Nothing."
Charlotte Test:
"We had a pretty good test. We took a brand new car that we thought we were going to run at Indianapolis, but decided not to. It was the best car I have ever raced at Charlotte. The car stayed consistent as we did a lot of qualifying runs and long runs. Charlotte is a place that demands a good handling and aerodynamic package. Hopefully that is what we have in that car right now."
Editors Note: The images displayed in this article (plus many more) can be viewed in The Racing ImageGalleries and the Visions of Speed Art Gallery.