---
NASCAR-WCUP: Electrical Problems Cost Park Career Best Finish
29 September 1998
Steve Park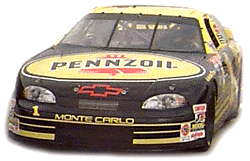 Have you ever gone out to your car on a cold winter's morning only to learn that you can't get to where you are going because of a bad battery? Do you know that feeling?
Then you can probably relate to how Pennzoil Monte Carlo driver Steve Park and his Dale Earnhardt teammates felt near the end of Sunday's Napa 500 when apparent battery or electrical problems ruined their drive from the back to the front of the field. It was a drive that probably would have given their rookie driver his best career finish.
"Man, can you believe our luck this year," exclaimed Park as he climbed from the Pennzoil Monte Carlo.
Park and his teammates battled 90-degree temperatures and 150-degree temperatures inside the car on the flat half-mile oval. Park fought from his 38th starting spot to the top-10 and remained on the lead lap and several drivers sought replacements after wilting in the oppressive heat.
"I'm burning my heels," Park told the crew over the radio. "For a while I had to use the accelerator and brake without touching the floorboard because it is so hot."
The Dale Earnhardt Inc. crew dumped ice on Park and the floorboard to stifle the heat. The crew even considered using the lid of a cooler to put on the floorboard to absorb the heat.
Except for his heels, Park seemed in reasonably good shape as the race wore on. Like most he worked all day attempting to improve his car's handling on the sharp corners and short straight-aways.
At the 400-lap mark of the 500-lap race it appeared a top-10 was likely giving Park his best career finish. But the car began to lose power and the gauges showed an electrical problem.
As the problem worsened, Park pulled the car into the pits where the crew replaced the battery and sent him back on the track only this time several laps behind the leaders. When the race ended Park finished 24th, nine laps behind race winner Ricky Rudd.
"We are frustrated by today but there are some things to take out of this that we did good. Our car was good and I feel comfortable on the track, so I can't wait to race here again," said Park as he soaked his feet in ice after the race.
Park and his DEI teammates return to action for qualifying on Wednesday night at Charlotte Motor Speedway.
Editors Note: The images displayed in this article (plus many more) can be viewed in The Racing Image Galleries and the Visions of Speed Art Gallery.