---
NASCAR-WCUP: Steve Hmiel Joins Dale Earnhardt, Inc.
25 September 1998
Steve Park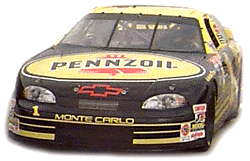 Dale Earnhardt Inc announced Thursday the hiring of Steve Hmiel as a consultant for its Winston Cup and Busch racing operations.
Hmiel will work on the #1 Pennzoil Monte Carlo with crew chief Philippe Lopez and the #3 AC Delco Chevrolet with Tony Eury Sr. Hmiel will concentrate on car preparation at the team's race shop in Mooresville, N.C. as well as assist in pit strategy and car setups at the track for the remainder of the 1998 season.
"I think it is a compliment to this organization that someone of the stature of Steve Hmiel will come to work for us," said Ty Norris, director of motorsports at DEI. "He brings a wealth of experience to a young team and we feel he can make this team better. The best illustration of Steve's ability is his record. You don't win as many races as he has without a great deal of knowledge, ability, and dedication."
Hmiel, 44, a Syracuse, N.Y. native, worked at Roush racing since its formation in 1987 helping Mark Martin's team to eight consecutive finishes in the top six in the standings between 1989 and 1996. Hmiel and Martin combined for 18 victories, 30 pole positions, 111 top-five finishes and 160 top-10 performances in 228 starts. From 1997 until last month, Hmiel served as general manager of Roush Racing's Liberty, N.C. - based operation as well as crew chief for Johnny Benson's car.
Hmiel began his duties at DEI on Thursday and will be in Martinsville this weekend.
"I had lots of opportunities, but what I saw here was a commitment to winning and doing things the right way," Hmiel said. "Earnhardt runs a top notch operation and I think as this organization grows it will become one of the dominant teams in the sport."
Hmiel said he has watched Park improve with each step as he moved up through the ranks of the modifieds to the Busch and Winston Cup Series.
"Park has the God-given ability of a great race car driver and he works hard at his job and that's the kind of driver I like to work with. I'm not promising wins anytime soon, but as I have said I think this team isn't far from contending for a win each weekend." Park said Hmiel will help his team.
"Steve Hmiel is one of the great crew chiefs in recent history so you can imagine how significant it is that we could bring him over to our Pennzoil team and DEI," Park said. "He brings a lot of experience to our new team which should pay dividends on the track."
Editors Note: The images displayed in this article (plus many more) can be viewed in The Racing ImageGalleries and the Visions of Speed Art Gallery.