---
The Callahan Report: The Name 'Burton' Gets Favored Status at Martinsville
25 September 1998
Jeff Burton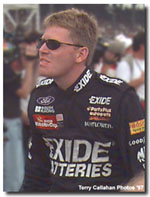 MARTINSVILLE, VA
: Jeff Burton is looking for another good weekend. Chances are, he will not be disappointed.
The stars of the NASCAR Winston Cup series head to the brake charring, tight corned, bull-ring of a race track known as Martinsville Speedway this weekend. Jeff Burton is very pleased with the location. He won the 1997 version of the NAPA Autocare 500 at Martinsville. He is reeling from recent victory on the circuit. Burton should carry that momentum into Sunday's race. Look for the number 99 Exide Ford Taurus to be fast "off the truck" this weekend.
The race will not be without its challengers. Bobby Hamilton will have his bright yellow Kodak machine set on a fast shutter speed. Hamilton is not particularly fond of Martinsville, but he is hard to beat at the tight little track. Hamilton finished third here last year. He the leader for much of the race. If anyone has Martinsville figured out, it is Bobby Hamilton. Count on Hamilton to be a blurred picture at Martinsville. He is very fast. That quickness may land him in Victory lane Sunday.
Rusty Wallace is so hungry for a victory he could eat a grizzly bear for lunch. Martinsville will be Wallace's best chance at victory in a while. Wallace won the NAPA Autocare 500 three years in a row (93, 94, and 95). The track suits his driving style. Fans can expect the Miller Lite Ford to be in front of most competitors Sunday. With his stomach growling, he may eat all the other driver's lunches on his way to victory lane.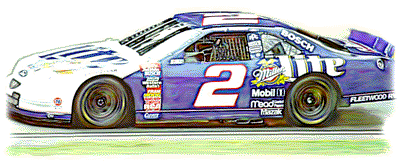 Rusty Wallace
Jeff Gordon is due for a bad race. But, it probably won't happen at Martinsville. He is good at staying out of trouble. Gordon is in the mode of protecting his Winston Cup points lead. He will towards the front of the pack, as usual. Gordon was the winner of this race two years ago. It will probably take some bad breaks by his Winston Cup competitors for Gordon to find win number eleven of 1998 at Martinsville. However, with Ray Evernham calling the shots for Gordon, he could post another victory.

Jeff Gordon
Race fans everywhere are waiting for a certain black race car to emerge as the winner of another Winston Cup race. Dale Earnhardt knows Martinsville. He needs a good qualifying effort to start his weekend off on the right foot. His "right foot" will be pressed hard to the floor on the type of track he cut his Winston Cup teeth on. Earnhardt had a decent qualifying effort here last year. He jumped from thirteenth starting spot to a second place finish. He didn't have enough for Burton at the end. The Intimidator of old may resurface this weekend. Places like Martinsville are his roots.
Dale Earnhardt
It is hard to think of Mark Martin as a darkhorse considering the stellar season he is having in 1998. He has not performed well at race as far as finished are concerned. The driver of the Valvoline Ford is more determined this year. He is thriving on his best ever NASCAR season. Look for Martin to continue his chase of Gordon for the Winston Cup Title. He is motivated and has new life in 98 as is obvious in his exhausting performances throughout the year. Martin will challenge till the bitter end. That new found determination may earn Martin the victory in Virginia. With the right "brakes", it could be a "Martin's-ville" weekend.
One more darkhorse not to be overlooked has the same last name as this weekend's favorite. Ward Burton has this place figured out. Ward qualified on the pole a year ago for the NAPA Autocare 500. He stayed up front throughout the race. He finished sixth. It seems that if your last name is Burton, you do well at Martinsville.
Callahan's Picks for Martinsville:
1. Jeff Burton
2. Bobby Hamilton
3. Rusty Wallace
4. Jeff Gordon
5. Dale Earnhardt
Darkhorses:
Mark Martin
Ward Burton
Agree or disagree? Send email to Terry Callahan
Editors Note: The images displayed in this article (plus many more) can be viewed in The Racing ImageGalleries and the Visions of Speed Art Gallery.