---
NASCAR-WCUP: Park Ready To Join Forces With Earnhardt Jr. (RealAudio)
24 September 1998
Here is audio of Steve Park discussing Dale Earnhardt Jr. who will be his teammate for five races in 1999 and for full seasons 2000 - 2005.
Click her to listen !!! (Requires RealAudio).
Steve Park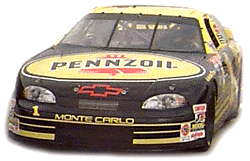 #1 Pennzoil Monte Carlo driver Steve Park said the addition of Dale Earnhardt Jr. to the Dale Earnhardt Inc. Winston Cup effort will help his Pennzoil team. DEI announced Monday that Dale Jr. will race five times in 1999 before beginning a full Winston Cup schedule in 2000.
Thoughts On A Teammate?
"I think this is good for our team. Multiple car teams seem to share more and more information and this is an information business. If you look at the results this year, the multi car teams are producing the best results. As a single car team, you can only learn a small amount each week. Right now, we share information with Richard Childress Racing, but having another team here in house should make information sharing a lot easier."
Will Dale Jr. Be Able To Help You As A Driver?
"The way he's been running this year, heck yes he's going to help me."
What Are the Differences Between the Busch and Winston Cup Series?
Dale Earnhardt Jr.

"This is a learning experience. Obviously, Dale Jr. has talent. Now it's just a matter of getting experience in a Winston Cup car. But, the competition up here is a lot tougher. The cars are different also. They weigh 200 pounds more, their wheelbase is five inches longer, and the engines have about 200 more horsepower. The only thing that helps you adjust to that is experience."
What Kind of Results Do You Expect?
"You can't come over here and kick butt. Nobody has ever done that and probably never will. You can be the king of the hill over there and come over here and struggle. Expectations are always high when you start a new deal, but this is the most competitive level of racing in the world and it take a lot of patience. It has made me work harder. He's got a tough road ahead, but if he works hard then he will be fine."
Next Race Is Sunday, September 27, 1998 in Martinsville, VA for the NAPA AutoCare 500
Track/Race Length: 0.526 mile, 500 laps, 263 miles 1997 Race
Winner: Jeff Burton TV: 12:30pm/et on ESPN(replay 11pm/et and Tuesday, 3am/et ESPN2)
Practice:
Friday, September 25th, 11:30am - 1:30pm;
Saturday, September 26th, 9:30 - 11:00am/et
First Round Qualifying - 2? laps, Friday, September 25, 1998 at 3:00pm/et, TV-ESPN2, MRN via the radio and internet
Editors Note: The images displayed in this article (plus many more) can be viewed in The Racing ImageGalleries and the Visions of Speed Art Gallery.