---
The Callahan Report: John Paul Jr.'s Name Belongs on 'Lone Star' Trophy
20 September 1998
John Paul Jr.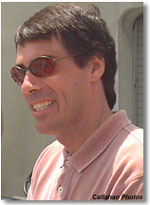 FORT WORTH, TX:
Few racing drivers have what it takes to make it on their own. A maverick is rare in the world of motorsports. John Paul Jr. is one or those rare individuals. He proved Sunday that talent can prevail over big bucks in today's racing arena. John Paul won the Lone Star 500 Pep Boys Indy Racing League event at Texas Motor Speedway. He won the race with a great team behind him. The style and confidence with which he won were all his own.
John Paul calmly stuck to his pre-race strategy. As cars started darting to the pits late in the race, Paul emerged as the leader. He and his Visionaire/Bryant Racing team knew they had plenty of fuel to go the distance. Alone in his office, Paul kept his right foot mashed to the floor. Even when Davey Hamilton's right rear tire exploded only inches in front of Paul's nose, he pulled to the inside and drove away. There was no panic....no tire smoke.... only confidence.
Few people considered John Paul Jr. to be a serious threat at the Lone Star 500. Paul's low key style is his trademark. Earlier this year at the Indianapolis 500, John Paul Jr arrived at the track early each morning. What made him different from the rest of the race drivers at the famed track was the fact he didn't have a race car to drive. He had no sponsor logos. John Paul Jr. was looking for a ride in the world's richest automobile race. Paul commented with confidence about his situation saying, "I have lots of prospects. There are plenty of cars around here." He continued, "I am going to chose the best one available."
There were several drivers at Indy searching for a ride. Not many could be as confident as John Paul Jr.
When asked if he was concerned about getting in a car late in the week and trying to attain a competitive speed in a short time, Paul responded, "Getting into a car on Sunday (the final day of qualifying) is plenty of time to get one of these cars in the race."
Comments like that may sound bold or arrogant. With a resume like John Paul Jr.'s, it is a fact. John Paul found his ride and put it in the show at Indy. He led the prestigious Indy 500 for a total of 39 laps. A late pit stop miscue took him out of contention for the victory. He drove a flawless race and then went home without much fanfare. It is his style.

John Paul Jr. at Indy, 1998
Prior to 1998, John Paul, Jr. had raced in the Indy 500 six times. Indy is the race he works toward all year. He polished his racing skills earlier this year by winning the Rolex 24 at Daytona with fellow drivers Elliotte Forbes-Robinson, John Schneider, Rob Dyson, Butch Leitzinger, James Weaver and Andy Wallace. Daytona was just another day at the office.
John Paul, Jr. drove his first race in 1979. It was a Formula Ford race in Sebring, Florida. He won the event. He posted another win in Savannah that same season.
The highlight of John Paul's career came in 1983 when he won the Michigan 500. He chased down one of the greatest oval racers of all time. Paul put intense pressure on Rick Mears heading through the third turn on the final lap of the race. Mears bobbled and spun. Paul drove to his first Indy-style racing victory. Sunday he added his second Indy-Car win to his resume.
Being a man of not-so-many words, Paul simply said, "It's been a long fifteen years."
While 1983 was Paul's stellar year, 1997 was his most painful. He headed to Indy with full funding and an excellent racing machine. Driving for PDM racing, Paul was among the top ten in all the practice sessions....until the seventh day of practice. Paul went head-on into the turn 4 wall. He suffered multiple injuries to his legs and feet.
Amazingly, he appeared at the track just five days later in a wheelchair. His eyes were badly blackened and his feet were weighted with plaster. Even though his dream ride at Indy was gone, he had to be at the track. His reception was one suited for a hero. Paul was later honored with the first ever Scott Brayton driver's award.
Somehow, John Paul Jr's name seems like it belongs on the "Lone Star" trophy.
Editors Note: The images displayed in this article (plus many more) can be viewed in The Racing ImageGalleries and the Visions of Speed Art Gallery.